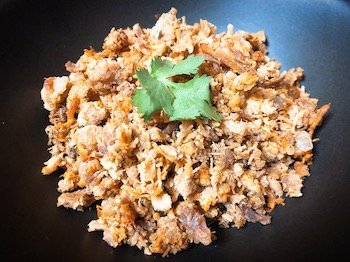 While North Americans my usually think more of ground beef or chicken for tacos, shredded pork is a fairly traditional choice in Mexico. By cooking it low and slow in a slow cooker then pulling it and broiling you get all the juice and still get some crispy texture to make oulled pork carnitas a more layered choice for your keto taco night.
Mexican Pulled Pork Carnitas Recipe
Ingredients:
Directions:
Heat avocado oil in a large pan over high heat. Sprinkle salt and pepper all over the pork roast. Add the pork and sear on each side until browned, about 1-2 minutes per side. Transfer pork to a large slow cooker.

Add the remaining ingredients (except garnishes) to the slow cooker, sprinkling the spices over the surface of the roast. Cook on low for 8 hours or on high for 4-5 hours or until the pork is tender.

Remove the meat from the slow cooker and shred, retaining the liquid from the slow cooker. You can do this with a pair of forks, but if you have a high-powered blender like a Blendtec blender, this is the easiest way to shred the meat. Simply cut off a few smaller chunks, and pulse it a few times until shredded.

Transfer shredded pork to a baking sheet and broil on high for 5 minutes or until crispy.

Remove from the oven and pour ¼ cup of the reserved juices from the slow cooker onto the crispy pork and toss.

Place the baking sheet back in the broiler for an additional 5 minutes or until the meat is crispy.

Pour an additional ¼ cup liquid over the crispy pork and serve immediately with lime wedges and cilantro, if desired. Try it in keto crispy cheese taco shells, low-carb tortillas or wrapped in lettuce along with sliced green onions, black olives, keto guacamole, salsa, sour cream, or anything else your heart desires.
The pork can be refrigerated in an airtight container for up to 3 days, or frozen for up to 3 months.
What's