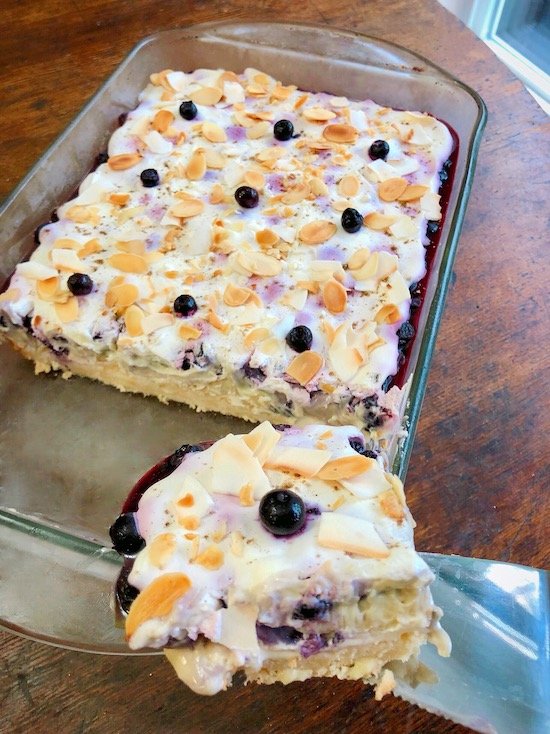 It's been a hot minute since I made a keto lush dessert, so I decided to do another today for my parents and another out-of-town guest. This time, I decided to make it a blueberry coconut macaroon lush. It starts with a coconut custard macaroon base, then the usual cream cheese layer spiked with a touch of white rum, then we add a vanilla pudding layer, which is then topped with a blueberry lemon layer. We finish with the whipped cream layer, which is topped with a sprinkle ground cardamom, roast almond slices and coconut pieces.
As usual, I carefully chose all these flavours to complement each other as layers in the lush, starting with the blueberry layer. Blueberry, coconut, and vanilla, all pair well with each other, but so do the secondary ingredients, including the rum, almond and lemon, making the the interplay of all the flavours and textures in this dessert a summery, tropical treat.
Blueberry Coconut Macaroon Lush Recipe
Macaroon Layer Ingredients:
Other Layer Ingredients:
1 teaspoon gelatin powder
2 tablespoon warm water
4 oz. cream cheese, softened
1/2 tablespoon white rum (*or 1/4 teaspoon rum extract)
3 tablespoons erithrytol, powdered in a spice/coffee grinder
¼ teaspoon liquid stevia, vanilla-flavoured
1 1/4 cup keto whipped cream, divided (¼ cup, ¼ cup, 3/4 cup)
1½ cups unsweetened almond milk
1½ cups blueberries (if using frozen, make sure they're fully thawed)
2 teaspoons erithrytol, powdered in a spice/coffee grinder
1½ teaspoons lemon juice (fresh is best)
10 drops liquid stevia
2 tablespoons coconut chips, roasted
2 tablespoons sliced almonds, roasted
1/4 teaspoon cardamom powder
Directions:
First make the macaroon layer. In a large saucepan, melt the butter over medium-low heat. While the butter is melting, in a small mixing bowl, whisk together egg yolk and half the xylitol until combined. Once butter is melted, whisk in heavy cream and extracts until fully incorporated. Heat cream mixture until steaming. Slowly pour over eggs, whisking constantly until combined. Pour mixture back into the pot and cook over medium-low heat, stirring frequently, until mixture thickens enough to coat the back of a spoon. Remove from heat and cool on a trivet in the fridge.

Preheat oven to 375F and spray a 2-quart casserole dish with cooking spray. Combine the egg white, remaining xylitol and cream of tartar in a small mixing bowl. Beat for 1-2 minutes with an electric mixer until lightly fluffy and frothy.

Add shredded coconut, coconut flour, salt and vanilla whey isolate to custard and mix until fully incorporated.

Gently fold in the egg white mixture until just incorporated. Press the macaroon mixture into a 2-quart casserole dish that's been sprayed with cooking spray. Bake in preheated oven until all edges an dark golden brown, about 15-20 minutes.

In a small mixing bowl, stir together warm water and powdered gelatin with a fork. Set aside and allow to bloom.

In a medium mixing bowl, using an electric mixer, beat together cream cheese, rum (or rum extract), and 3 tablespoons powdered erithrytol. Fold in ¼ cup whipped cream until fully incorporated. Spread evenly over cooled crust.

Stir together pudding mix and almond milk. Fold in ¼ cup whipped cream until fully incorporated. Spread evenly over cream cheese layer in pan.

Toss blueberries with powdered eritrytol, lemon juice, 10 drops liquid stevia and gelatin mix. Spread evenly over pudding layer. (*Note: If there are chunks of solid gelatin try to break this up before adding to the mix. If they're a bit too solid, try zapping it in the microwave for a few seconds at a time then try to break them up.)

Top blueberry layer with remaining whipped cream overtop. Refrigerate 4 hours or overnight. Sprinkle cardamom over whipped cream layer then top with toasted coconut chips just before serving.
Have you ever tried making a lush dessert before? What did you think of this keto blueberry coconut macaroon lush? Please share your thoughts in the comments. Or if you share pics on Instagram, tag me so I can see your creation. Enjoy!