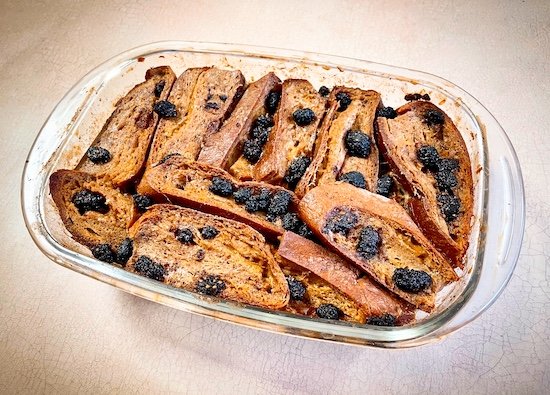 A British friend once introduced this recipe to me. Now normally you wouldn't think of bread pudding as a super keto-friendly choice, but simply swapping regular bread with keto bread, and raisins/sultanas with lower carb mulberries and you've got yourself a lovely low-carb dessert for any holiday, Christmas, Easter, or whatever!
Keto Bread and Butter Pudding Recipe
Ingredients:
Directions:
Preheat the oven to 350F. Grease a 1-quart dish with a little of the butter. Spread one side of each of the bread slices with remaining butter.

Cover the base of the dish with overlapping sliced of bread, butter-side up. Sprinkle half the mulberries evenly over the bread, then lightly sprinkle with half the lemon zest, a little nutmeg and cinnamon. Repeat this layer one more time or until the dish is filled, finishing with the remaining mulberries, lemon zest and spices on top.

In a saucepan, gently heat the milk and cream but do not boil. Set aside.

In a medium-sized heatproof bowl, beat the eggs with Lakanto granulated sweetener, and the vanilla extract until light, airy, and pale in color.

Slowly pour the warm (not piping hot) milk over the eggs, whisking continuously, until all the milk mixture is incorporated.

Pour the egg mixture slowly and evenly over the bread until all the liquid is added. Gently press the bread down into the liquid. Sprinkle the erithrytol gold and nutmeg over the surface and set aside for 30 minutes.

After 30 minutes, bake the pudding in the hot oven for 40 to 45 minutes, or until the surface is golden brown, the pudding is well risen and the eggs are set. Serve hot. After fully cooled, store leftovers in an airtight container in the fridge for up to 4 days (eat within 2 for best texture). Bread and butter pudding reheats well covered with aluminum foil in a hot oven. It's also delicious cold, cut into large wedges. You can also freeze baked bread and butter pudding for up to 3 months.
Did you make this keto bread and butter pudding recipe? If so, please let me know how it turned out in the comments. Or if you share pics of your creations on Instagram, please tag me so I can see them. Enjoy! :)