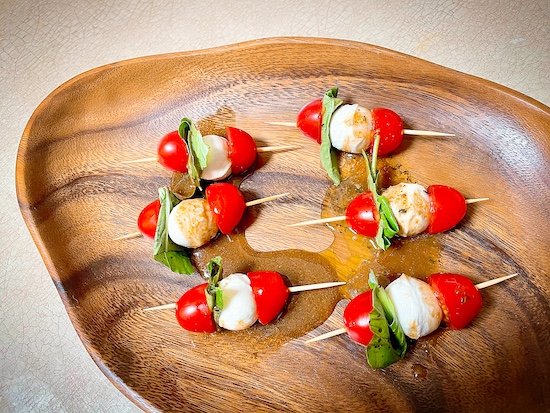 I love caprese salads. The flavour is so fresh, almost like a pizza in salad form, and they can also make pretty nifty finger foods when done on toothpicks or skewers. That's exactly what this keto-friendly caprese salad sticks recipe is: a grape tomato halved, a mini bocconcini ball, a folded basil leaf, all skewered onto a toothpick. Drizzle with a balsamic vinaigrette and you've got a delicious, healthy, low-carb, addition to a party platter.
Keto Caprese Salad Sticks Recipe
Ingredients:
Directions:
Skewer each stick in the following order: grape tomato half, mini bocconcini ball, folded basil grape tomato half. Be sure to press each new ingredients all the way in so it makes a mini sandwich on the stick.

Arrange the caprese salad sticks on a platter then drizzle with keto balsamic vinaigrette dressing and sprinkle with flaky sea salt and freshly ground black pepper.
Did you make this keto caprese salad sticks recipe? If so, please let me know how it goes in the comments. Or if you share pics of your creations on Instagram, please tag me so I can see them. Enjoy! :)