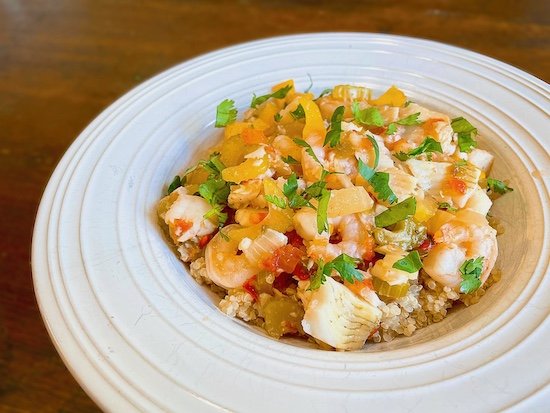 Since we are still waiting to be able to do travel to beautiful, exotic places, cooking dishes like this Caribbean seafood stew will have to be enough to satisfy the itch for novelty. If you really want it to be authentic, see if you can source fresh Scotch bonnet peppers somewhere. It'll also give you the side benefit of shopping someplace novel in your area.
Ingredients:
2 tablespoons avocado oil
1 cup yellow onion, diced
1 cup medium yellow or orange bell pepper, diced
1 celery stalk, sliced
½ Scotch bonnet or habanero pepper, seeded and thinly sliced (*May sub with jalapeños if you prefer it less spicy.)
2 cloves garlic, minced or finely grated
1 ½ teaspoons chopped fresh thyme
½ teaspoon kosher salt and freshly ground black pepper, plus more to taste
¼ teaspoon freshly ground black pepper (or to taste)
1 cup canned diced tomatoes with juices, or 1 cup fresh diced tomatoes with juices
1 cup fish bone broth (or water)
1 tablespoon fresh lime juice, plus more to taste
1½ lb red snapper, mahi mahi or other white fish fillet, cut into 1½" pieces
8 oz shrimp, peeled and deveined
¼ cup fresh cilantro leaves
Directions:
In a large Dutch oven or a large, deep skillet over medium heat, heat the oil until shimmering. Add the onion, bell pepper, celery, Scotch bonnet and sauté, stirring occasionally, until the vegetables have softened somewhat but have not browned, 4-5 minutes. Stir in the garlic, thyme, salt and pepper and cook for 30 seconds more. Add the tomatoes, fish broth and lime juice, and bring to a boil. Reduce the heat to medium-low, cover, and simmer until the sauce thickens a bit and the flavours have blended, around 10 minutes. (*If you're not planning to eat it right away, you can let the stew cool completely at this point then cover and refrigerate then rehear it when ready.)

Gently stir in the fish and shrimp, turn the heat up to medium, cover and cook, stirring gently occasionally, until the seafood is just cooked through, 5-7 minutes. Taste, and season with additional salt, pepper and lime juice, if desired. Divide the stew among bowls, garnish with cilantro, and serve with cauliflower rice.
Did you make this keto Caribbean seafood stew recipe? If so, please let me know how it turned out in the comments. Or if you share pics of your creations on Instagram, please tag me so I can see them. Enjoy! :)