I had heard a lot of good things about the Caveman Cafe as a keto-friendly restaurant in downtown Vancouver, but it's taken me a while to get out there, as I'm not downtown often, but I'm glad I finally did recently. But I was teaching a corporate self-defense class, and since I needed to eat beforehand, it was the perfect opportunity.
Lots of Keto-Friendly Items with Customizable Options
They make it quite clear when you first walk in that they're raison d'être is to provide both paleo and keto-friendly foods for their patrons. Unlike other places, they don't just pay homage to keto by simply pointing out that they have one or two items that are suitable. All the main offerings on their menu are made to order and can be made keto, and when you order online their selection tool allows you to personalize the menu displayed around your dietary preferences, whether you're paleo, gluten-free, vegan or vegetarian and you can specify if you're following a keto or FODMAP diet in addition to those. You can also specify foods you prefer to avoid too, making it easier to see what menu items are appropriate for you. Among their keto-friendly main dish offerings are power pizzas, the "burghini" burger collection, grain-free pastas, salads for life, energy entrees, and platter feasts.
Our Keto Entree Selections
We decided to share two items, the lamb burghini with a keto seed bun and the power pizza with a 7-veggie infusion crust. We dressed these babies up with our chosen ingredients then sat down to enjoy them.
I have to admit, we were both a little disappointed with the keto seed bun and the veggie infusion crust. Neither of them held up so you could eat them with your hands. Neither of them really made you feel like you were eating a burger or a pizza. Both had to be eaten with a knife and fork, and while they tasted good, they didn't deliver in terms of our expectations. That being said, the lamb patty was truly delicious, so getting the buns away burger with a free range egg or side salad would be an awesome meal, and at the same price point too. I would want to try their keto seed pizza crust too before completely writing off their pizzas. Veggies, as a base for a crust, are pretty hard to work with, though I do appreciate their efforts to do so.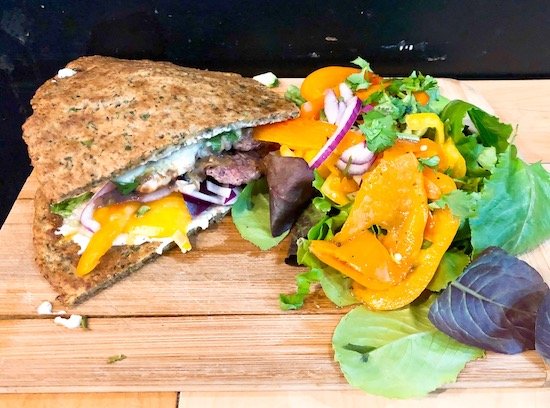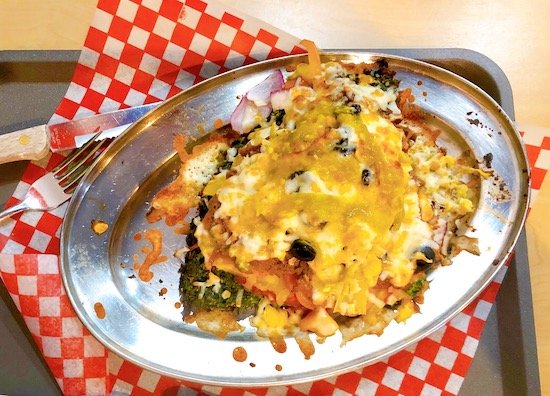 I also sat watching other patrons enviously as they sat down to eat their platter feasts, grainless pasta meals, steak specials, and massive salads. They looked like they got a LOT more food for their dollar with those choices. I will surely return and give some of them a try.
Keto Dessert Selections... for a Price
We tried two of the house-made keto dessert offerings, a cheesecake bar and a brownie, each costing $6. This is quite pricey, especially when you compare it to their main menu items, which are far more budget-friendly. I understand that keto ingredients like almond flour and erithrytol are more expensive, but I can get my keto baked goods fix over at Style Me Sweet Bakery in Langley for half the price if I really don't feel like baking. The ones we tried also weren't as tasty as Style Me Sweet or anything I make myself for that matter. It's good that they have a few options at least, if you can't live without some kind of keto dessert, but I would prefer to put my money into their entrees where they really shine.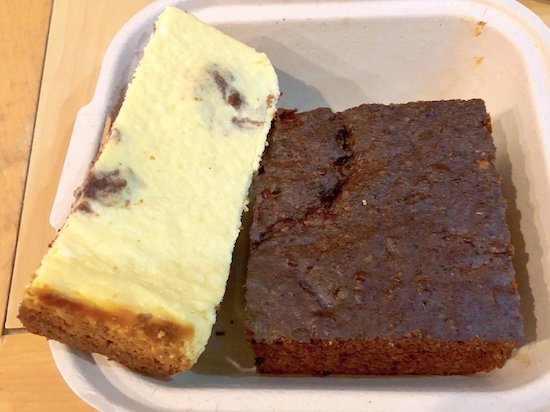 Overall Impressions
Caveman Cafe is an innovative, budget-friendly restaurant that truly caters to all different kinds of healthy diets. It's a perfect place to go for lunch to satisfy a variety of dietary needs. And while some of their keto offerings could use some re-tooling, they have so many different keto food items that it's well worth it for me to go again if I'm in the area.