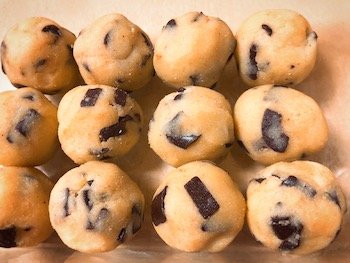 Mmmmm!!! Who doesn't love eating chocolate chip cookie dough straight from the bowl? But now we're all worried about the raw egg component so here's the next best thing: keto chocolate chip cookie dough fat bombs! A perfect fatty confection that requires no cooking so you can whip up a batch any time you like. Throw a couple into some keto vanilla ice cream and you've an even more decadent treat!
Ingredients:
Directions:
Beat butter (or coconut oil) with an electric mixer on low until fluffy then gradually add in erithrytol, continuing to beat. Mix in remaining ingredients with a spatula.

Chill in the fridge for at least 30 minutes. Roll into 12 balls. Store in the fridge for up to a week or up to 3 months in the freezer. If freezing make sure you keep them separate when you initially freeze them.
So? Did you whip up some of these keto chocolate chip cookie dough fat bombs so you can chow down and relive your childhood? If so, let me know what you think of them in the comments. Or if you share pics on Instagram, tag me in them so I can see your creation. :)