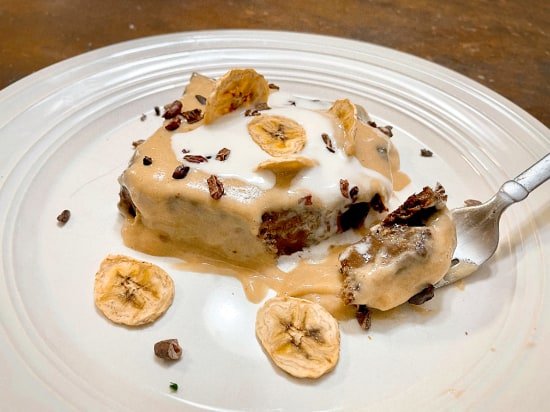 Having made two banana breads, I decided to use one to make a unique bread pudding, a low-fat, gluten-free chocolate peanut butter banana bread pudding. With a base of banana bread cubes and a high-protein chocolate pudding, topped with a low-fat peanut butter sauce, you don't find yourself missing the fat at all, and this is coming from me, someone who generally prefers keto-friendly desserts.
Vegan Carb-Up Chocolate Peanut Butter Banana Bread Pudding Recipe
Ingredients:
Peanut Butter Sauce Ingredients:
Garnish Ingredients:
Directions:
Cut or tear the bread into bite-sized pieces. If the bread is moist or dense, spread it out on a cookie sheet and toast it for a few minutes in the oven. Add it to an 8x8" square baking dish that's been sprayed with cooking spray. Sprinkle with the cacao nibs.

Put the non-dairy milk into the blender along with the banana, chocolate protein powder, coconut sugar or erithrytol gold, soaked psyllium husk, vanilla, baking powder, and raw cacao powder. Blend until smooth. Pour it over the bread, ensuring the cubes are coated. Set aside to soak for at least an hour.

Preheat oven to 350F. Bake for about 45 minutes or until top is set and beginning to brown. Remove from oven and allow to cool for at least 15 minutes.

While the pudding is cooling, make the peanut butter sauce. In a small heavy-bottomed saucepan whisk together the non-dairy milk with the sweetener, peanut butter powder, arrowroot powder and salt. Heat to medium-low, whisking constant until the mixture comes to a boil; reduce heat to low and continue to whisk simmering for another 1-2 minutes longer until thickened. Remove from heat and stir in vanilla.

Poke a few holes in the top of the bread pudding with a chopstick or skewer, and pour the sauce over the top. Cut into squares and serve warm, topped with banana chips and sprinkled with cacao nibs.
Did you make this vegan carb-up chocolate peanut butter banana bread recipe? Please let me know how it turned out in the comments. Or if you share pics of your creations on Instagram, please tag me so I can see them. Enjoy! :)