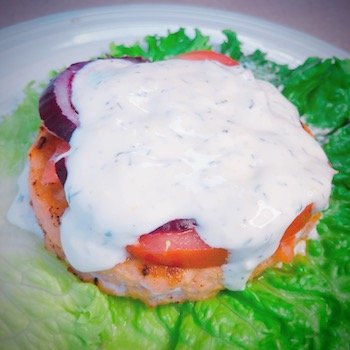 On their own frozen salmon burger patties can be a bit bland, but this creamy lemon garlic dill dressing gives them the flavour they need to make it a taste experience. Don't skip on the lemon zest. Trust me. It makes a huge difference.
If you're like me, you've probably added a lot more fatty fish to your diet since adopting a keto diet. While frozen burger patties are a convenient tasty treat, I am well aware they shouldn't bw something I reach for regularly as a convenience food when I'm busy. Instead, I've turned to salmon patties for my lettuce wrapped burger needs, when I don't have time to make my own fish patties from scratch.
*Tip: To make your salmon burgers that much better, add a little Old Bay spice to them salmon patties while they're cooking, then top with fresh tomato, slices red onion and this delicious dressing and you'll be wondering why you even thought beef burgers were so good in the first place.
Keto Creamy Lemon Garlic Dill Dressing Recipe (for Salmon & Other Fish)
Ingredients:
Directions:
Before you prepare whatever fish you're going to use this dressing on, combine all ingredients in a bowl or container and stir. Put in the fridge and allow flavours to blend for at least 30 minutes.

Serve with salmon burgers, fillets or salad, with mackerel, or any other fish that pleases you. Store any extra in fridge.
I love easy recipes like that transform the taste of boring convenience food, don't you? If you give this creamy lemon garlic dill dressing a try, let me know how it goes and on what kinds of fish you try it on in the comments for this post. Or if you take any pics of it to share on Instagram, please tag me so I can see your creation. :)