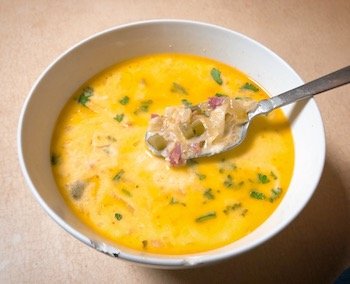 I made a nice hot Reuben dip a while back, and I just love the interplay of the various flavours. So I figured why not make make a low-carb, keto-friendly reuben soup? Sauerkraut is such a healthy ingredient with all the probiotics, which plays perfectly with the corned beef, and Swiss cheese. You don't even need the bread to make this a complete meal!
Keto Creamy Reuben Soup Recipe
Ingredients:
Directions:
Melt butter in a large pot over medium heat. Add onion and celery and sauté for 3 minutes. Stir in ground mustard, salt, pepper, horseradish and ketchup and sauté for 2 minutes.

Add bone broth, sauerkraut, corner beef and Worcestershire sauce. Reduce heat and simmer for 20 minutes.

Stir in heavy cream, cream cheese, sour cream and Swiss cheese. Heat through. Ladel into bowl and top with dill pickle and parsley. Makes approximately four 2-cup servings.
Did you give this keto creamy reuben soup recipe a try? Let me know your thoughts in the comments. If you like the flavours, please try my hot reuben dip for your next party too. Or if you post pics on Instagram, tag me so I can see your creation. :)