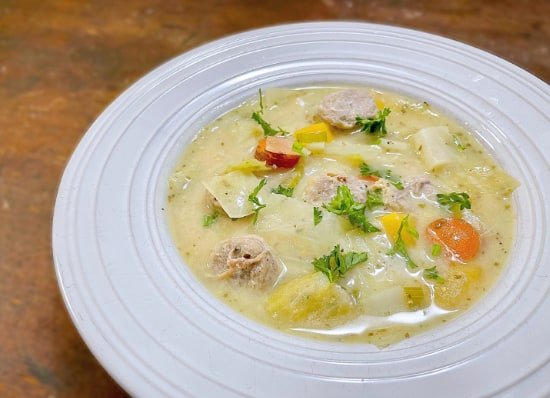 Yes, another cold weather soup for you, this time a creamy sausage and cabbage soup, inspired by Polish flavours. Sausages paired with hearty root vegetables and cabbage fills the belly and soul, while the creaminess totally makes it a comfort food after a day out in the cold.
Keto Creamy Sausage and Cabbage Soup Recipe
Ingredients:
1lb smoked kielbasa sausage (or other smoked sausage), sliced
2 tablespoons avocado oil
⅔ cup yellow onion chopped
3 cloves garlic, minced
4 cups chicken or pork bone broth
1 cup (around ⅓ lb) rutabaga, diced
½ cup carrot, sliced (*Or orange bell pepper for lower carbs.)
4 cups green cabbage, chopped
½ cup celery, sliced
1 teaspoon dried marjoram
Kosher salt and freshly cracked freshly ground black pepper, to taste
⅓ cup ghee or unsalted butter (*Use vegan butter for dairy-free.)
⅓ cup oat fibre
½ cup unsweetened coconut milk beverage (*Or other unsweetened non-dairy milk.)
2 tablespoons grainy Dijon mustard
⅔ cup sour cream (*Use https://feednflow.com/blog/post/dairy-free-sour-cream-keto-low-carb-vegan for dairy-free.)
3 tablespoons fresh parsley, chopped (for garnish)
Directions:
Heat avocado oil to medium then sauté the sausage and onion until translucent, around 2-3 minutes. Add garlic after 2-3 minutes and continue to sauté until onion is tender and the garlic is fragrant, around 1-2 minutes.

Add celery, carrot, rutabaga, cabbage, broth, and salt and pepper to taste. Bring to a boil. Reduce heat, cover and simmer 10-15 minutes or until rutabaga is tender.

Meanwhile, melt butter in a small saucepan. Stir in flour and cook over medium heat until frothy, around 2 min. Gradually whisk in the non-dairy milk a little at a time until fully incorporated then simmer until smooth, thick and bubbly. Remove from heat and whisk in the grainy mustard and sour cream.

Once vegetables are tender, stir in sour cream mixture into the soup. Allow to simmer 2-3 minutes. Remove from heat, pour into bowls and top with fresh parsley.
Did you make this keto creamy sausage and cabbage soup recipe? Please let me know how it turned out in the comments. Or if you share pics of your creations on Instagram, please tag me so I can see them. Enjoy! :)