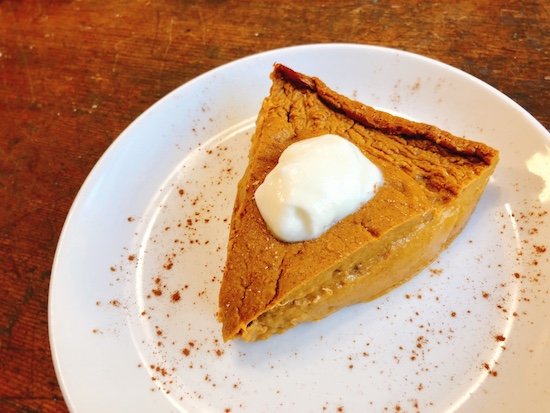 Carb-up desserts don't have to have a ton of refined flour and sugar. Take this vegan crustless sweet potato pie recipe. The sweet potato purée becomes a delivery system for all sorts of nutritious spices, including maca, cinnamon, ginger, cloves and nutmeg, and the vegan protein powder provides a punch of protein to make it a bit more filling, while balancing out your macros a bit. And of course the sweet potato itself is also a nutrition powerhouse on its own. What a great way to cap off a carb-up dinner!
Carb-Up Crustless Sweet Potato Pie
Ingredients:
Directions:
Bring a pot of water to a boil. Add sweet potato cubes and boil for 15 minutes or until fork tender. Drain. (*If you have an Instant Pot, you can steam them in the steam basket on high with 1 cup of water for 7 minutes.)

Preheat oven to 400F, and prepare a pie crust in a 9-inch pan. Blend all pie ingredients in a blender until completely smooth.

Pour the filling into the crust, then bake 30 minutes on the center rack. Don't open the oven door, but turn off the heat and leave in the closed oven another 30 minutes. Take out the still-underbaked pie, and let it cool. Then transfer the pie uncovered or very loosely covered to the fridge, where it will firm up after 5-8 hours or overnight. Slice and serve with a dollop of fat-free Greek yogurt or homemade frozen yogurt.
Did you make this carb-up crustless sweet potato pie recipe? If so, please let me know how it turned out in the comments. Or if you share pics of your creations on Instagram, please tag me so I can see them. Enjoy! :)