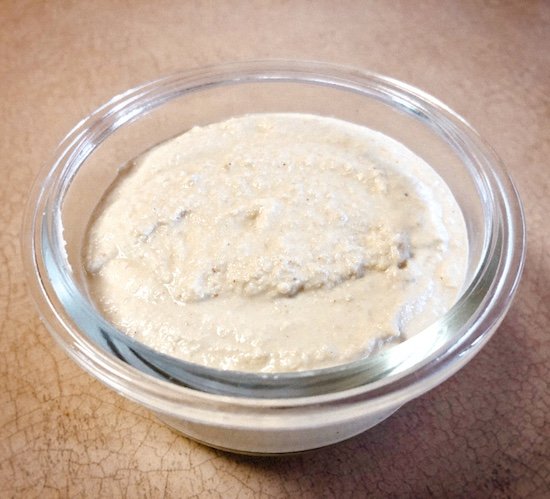 I love making my own homemade sour cream and creme fraiche, but I recently found out I have a sensitivity to cow's dairy. As such, I wanted to find ways to reduce or replace that from my recipes. This vegan keto dairy-free sour cream recipe used cashews and macadamia nuts blended with lemon juice, cider vinegar and a few extras for seasoning to make this palatable replacement for sour cream. I can't delude myself into thinking it's the perfect replacement, but it's close enough when mixed up with other foods.
Dairy-Free Sour Cream Recipe
Ingredients:
Directions
Add raw cashews to a glass container. Cover with water and soak for 3-4 hours, covered, in the fridge.

Drain and rinse. Add to the jug of your high-powered blender along with all other ingredients: water, lemon juice, macadamia nuts, nutritional yeast, salt and pepper.
Blend until smooth, about 3 minutes. You may have to scrape down the sides of the blender as you go. The mixture will be thick and creamy. Try to avoid adding water.

Store in an air-tight container for up to 3 days. The sour cream will thicken up over a couple of hours. To make just a bit creamier, add a little water and stir.
Did you make this vegan keto dairy-free sour cream recipe? If so, please let me know how it turned out in the comments. Or if you share pics of your creations on Instagram, please tag me so I can see them. Enjoy!