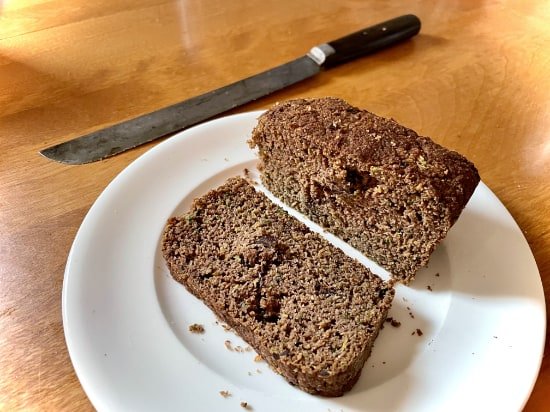 Chocolate and zucchini pair oh so well together. So why not double up on the chocolate flavour with both cocoa powder and chocolate, and while you're at it double up on the entire recipe because this is the sort of thing that will go fast... especially if you add a slather of peanut butter and a sprinkle of sea salt. And unlikely traditional sweet loves, because this is high in protein and healthy fats, you'll feel sated after a slice or two, making it a healthy option for as quick breakfast, late afternoon snack, or evening dessert.
Keto Double Chocolate Zucchini Bread Recipe
Ingredients:
Directions:
Line a loaf pan with parchment paper and grease the ends with a little olive oil.

Preheat oven to 325F. In small bowl, whisk together all the dry ingredients except for the sweetener.

In large bowl, whisk together the eggs, olive oil, sweetener, and vanilla extract. Fold in the zucchini.

Stir in flour mixture with a silicon spatula until just combined. Gently fold in the chocolate chunks. Pour into prepared pan pan.

Bake for 60-70 minutes at 325F or until a toothpick inserted comes out clean.

Cool for about 15 minutes, then remove from pan. Allow to cool completely. Store in refrigerator and slice as needed. To take it to the next level, be sure to spread on a little natural peanut butter and sprinkle with a little fine sea salt. (Trust me on this one!)
Did you make this keto double chocolate zucchini bread recipe? If so, please let me know how it turned out in the comments. Or if you share pics of your creations on Instagram, please tag me so I can see them. Enjoy!