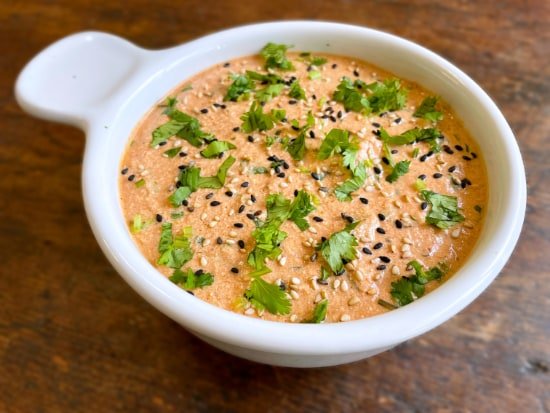 I wanted to serve an low-carb appy for an Ethiopian-themed dinner I was having. Since I had made a batch of homemade berbere spice and had plenty extra, I decided to blend it in with some tofu and tomato paste, olive oil and a few other things. It turned out awesome! No need to wait for an Ethiopian dinner to enjoy this dip.
Vegan Keto Ethiopian-Inspired Berbere Dip Recipe
Ingredients:
Directions:
Add tofu, coconut milk beverage and tomato paste to a high-powered blender of food processor. Pulse until smooth.

Add salt, garlic, lemon juice, Berbere spice, ground cumin and olive oil to food processor. Blend until smooth. Add more salt and pepper to taste then pulse until well combined. Add cilantro and pulse until combined.

Pour into a bowl and drizzle with a little extra olive oil and garnish with remaining cilantro and chopped pistachios. Serve with cut veggies, keto crackers, keto bread, or pork rinds.
Did you make this vegan keto Ethiopian-inspired berbere tofu dip recipe? If so, please let me know how it turned out in the comments. Or if you share pics of your creations on Instagram, please tag me so I can see them. Enjoy! :)