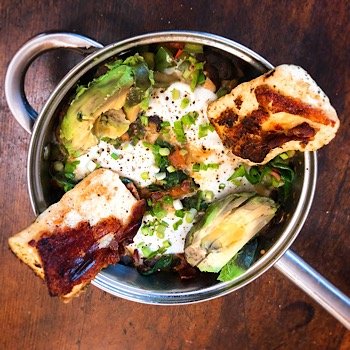 Last week, I was thinking about some of my favourite comfort foods, more specifically, Filipino breakfasts with longanisa sausage were my mother would put together for special occasions when our family was all together on a weekend morning. I also thought about my love for tortillas and anything wrapped into them to make tacos, burritos, mixed with different sauces and garnishes to bring together all sorts of interesting tastes and textures. Then I thought, "Wouldn't it be awesome to bring these two comfort foods together?" And so this recipe for low-carb Filipino breakfast burritos with longanisa sausage was born.
Keto Filipino Breakfast Burritos with Longanisa Sausage Recipe
Filipino Breakfast Burritos with Longanisa Sausage Components:
Keto soft tortillas or (*Or flaxseed soft tortillas for egg and nut-free diets.)
[Keto rutabaga hash](https://feednflow.com/blog/post/rutabaga-hash-browns-keto-low-carb-vegan
Scrambled eggs with sautéed sliced onions and diced Roma tomatoes (*Around 6 eggs prepared with 1 half cup onions and 2 Roma tomatoes.)
Longanisa sausages (hot or sweet, depending on your tastes)
1 cup aged cheddar and/or manchego cheese, grated
1 small avocado, diced
Crispy garlic (3-4 large cloves of garlic, sliced and fried in oil until crispy.)
⅔ cup sour cream or mayonnaise
Sriracha or keto spicy ketchup
2 green onions, chopped
Directions:
Prepare all the components that require preparation that don't need to stay warm first. This includes the crispy garlic, green onions, avocado, cheese and tortillas. All these items can even be prepared the night before if you want to minimize prep work on the day you want to serve them.

On serving day, start by prepping the rutabaga hash grating it and salting it as it will need to sit for at least 20-30 minutes to allow the water to be drawn out by the salt. While this is happening, start cooking the longanisa sausages in a large skillet according to package directions. When the sausages are cooked, put them in a heat-proof dish and put in the oven at the lowest heat setting to keep warm. Keep the fat from the sausages in the skillet. You can put the tortillas in at the same time in a covered, heat-proof dish.

Follow the remaining instructions for cooking the rutabaga using the fat from the sausages as the cooking oil. Since this can take a while, start taking out all your other ingredients so that they're ready to go.

Toward the end of cooking the rutabaga has, heat a separate frying pan to low heat, Once heated through, add about 1 tablespoon of unsalted butter or avocado oil to the pan then add sliced onions. Sprinkle with salt and pepper and cook until tender. Add diced tomato and cook until softened. Add your whisked eggs to the pan and allow to set for 20 seconds or so, then start moving the egg around the pan gently with a silicon spatula, taking the pan off the heat as necessary to keep it from cooking too quickly. When they're almost cooked through, but still a little wet, remove from heat.

Now that all the components are ready, assemble the burrito: First start by spreading a little sour cream or mayo on the inside of the tortilla. Then add a layer of crispy rutabaga hash. Now add a small scoop of the scrambled eggs and top with a couple of longanisa sausages. Sprinkle on some grated cheese, then top with a few pieces of diced avocado. Add sriracha or spicy ketchup then sprinkle with a few pieces of crispy garlic and sliced green onions. Fold up using your preferred folding method. The end product will be beautiful, but don't spend too much time admiring your handiwork. Eat it up while it's hot!
Did you make this keto Filipino breakfast burritos with longanisa sausage recipe? If so, please let me know how it turned out in the comments. Or if you share pics of your creations on Instagram, please tag me so I can see them. Enjoy! :)