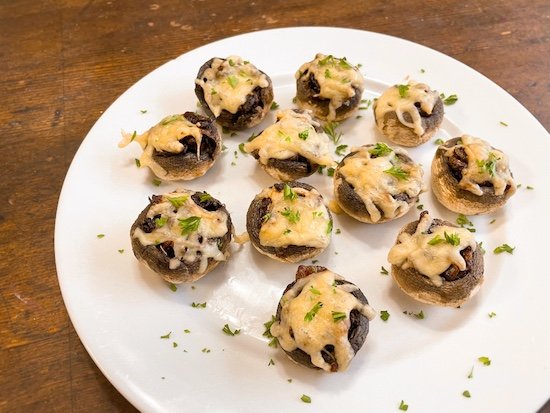 I love French onion soup. I loved stuffed mushrooms. Here's a fun low-carb recipe that combines the two in a delicious, crowd-pleasing appy that you can make ahead and cook when you need it. Try this recipe for a interesting new take on a classic appetizer.
Keto French Onion Stuffed Mushroom Caps Recipe
Ingredients:
Directions:
In a large skillet over medium heat, heat butter and oil. Add onions and season with salt, pepper, and thyme. Reduce heat to medium-low and cook, stirring occasionally, until onions are caramelized and jammy, about 20 minutes.

Increase heat to medium-high, stir in garlic and cook, stirring, until fragrant, about 30 seconds. Stir in white wine vinegar and beef bouillon and simmer until almost completely reduced, 2 minutes. Remove from heat.

Preheat oven to 350F. Use a small spoon fill each mushroom cap with a generous amount of stuffing. Arrange stuffed mushrooms onto the prepared baking sheet.

Bake in preheated oven until piping hot and liquid starts to form under the caps, about 20 minutes. Sprinkle with parsley and serve.
Did you make this keto French onion stuffed mushroom caps recipe? If so, please let me know how it turned out in the comments. Or if you share pics of your creations on Instagram, please tag me so I can see them. Enjoy! :)