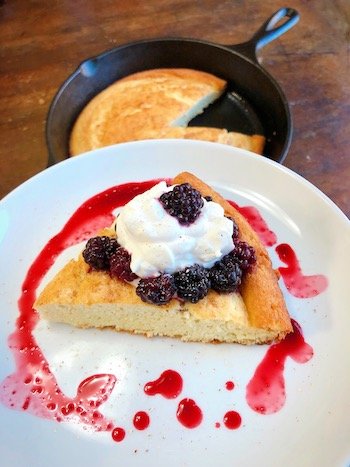 This brunch-worthy dish is new to me. The German pancake, also known as a Dutch Baby pancake, is similar to a Yorkshire pudding but in brunch form. Personally, I like it best as a dessert, but hey, to each their own. Theoretically, the pancake is meant to rise high as it bakes then deflate into interesting formations, but because this recipe is low-carb, it doesn't have the wheat flour needed to have as dramatic an effect. It will rise, but it settles more uniformly because the batter is generally heavier. That being said, the abundance of butter and nutty-sweet base still delivers a delicious dish for which you don't have to slave over a griddle, like you do with normal pancakes.
Keto German/Dutch Baby Pancake Recipe
Ingredients:
Directions:
Preheat oven with 10.25" cast iron skillet to 450F. While the oven preheats, prepare the batter. In a medium bowl, whisk together almond flour, coconut flour, whey isolate, xanthum gum, cream of tartar, baking powder, and salt.

In a large bowl, add almond milk, heavy cream, vanilla, cider vinegar, and eggs. Beat with an electric mixer on low, gradually adding the dry mixture. Once fully combined, increase the speed to medium for 30 seconds then increase to medium-high for 30 more seconds.

Remove preheated skillet from oven and add butter. Once it had melted and sizzled, pour in the batter. Pour the batter into the prepared baking dish and bake on centre rack for 20 minutes.

Top with keto whipped cream, freshly ground nutmeg or cinnamon, freshly squeezed lemon juice, fresh berries sugar-free maple syrup or anything else you like on pancakes and serve.
Did you give this keto German/Dutch Baby pancake recipe a try? How did you like it? Please share your thoughts in the comments. And if you post any pics on Instagram, please tag me so I can see them. Enjoy! :)