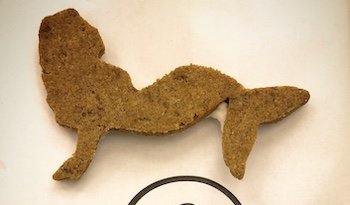 The gingerbread cookie: An iconic Christmas cookie that need not be left behind in adopting a low-carb diet. Use this recipe to make keto-friendly gingerbread cookies and houses and keep the Christmas dream alive! (Even if it's with mermaid gingerbread cookies...)
Keto Gingerbread Cookies Recipe
Ingredients:
Directions:
Preheat oven to 275F and line two baking sheets with parchment paper or silicon mats.

In a large bowl, whisk together almond flour, coconut flour, ginger, cinnamon, baking powder, xanthan gum, nutmeg, salt, ground cloves and allspice.

In a separate bowl, cream together coconut oil and erithrytol. Blend in eggs, liquid stevia, gingerbread extract, and vanilla extract with a mixer on medium until fluffy.

Stir together the wet and dry mixes until a dough comes together.

Divide dough in half and turn out first half onto a large piece of parchment paper. Top with another piece of parchment and roll out out about 1/4 inch thick. Wrap the other dough ball in plastic wrap and store in the fridge until ready to use.

Use cookie cutters to cut into cookies and gently loosen and lift with an offset spatula to place onto prepared baking sheets. Gather up scraps and reroll until used up.

Bake 20 minutes or until golden brown and just firm to the touch. Remove and let cool 5 minutes on pan, then transfer to a wire rack to cool completely. Repeat with second half of dough. If you like to decorate your gingerbread cookies, allow them to cool completely then try icing them with my sugarless keto royal icing recipe.
*For crisper cookies, bake at 225F for 50 to 60 minutes. Remove from oven and let cool. They will become more crisp as they cool.
What is your preferred gingerbread creation? Please share in the comments. If you make this recipe, please comment and let me know how it goes, or if you post pics on Instagram, tag me in your pics so I can see your creations. Happy Christmas baking! :)