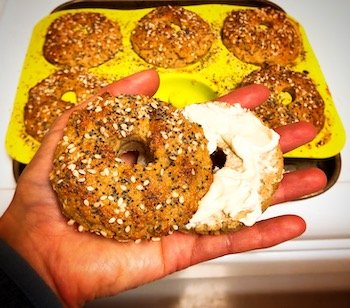 Who doesn't love a good bagel as a treat? It's definitely something I missed from my carb days. But if I'm going to eat something that calorie dense, why not make it around fat rather than carbs? It's totally do-able as you'll experience with this recipe. Please note that the main ingredients are weighed for this recipe to make sure you get the right consistency as volume measurements aren't as accurate.
Grain-Free Keto Bagels Recipe
Ingredients:
Directions:
Add yeast and honey to a large bowl. Heat up water to 105-110F (or lightly warm to touch). Pour water over yeast mixture, lightly stir, then cover bowl with a kitchen towel and let it rest for 7 minutes. The mixture should be bubbly, if it isn't start again and try to ensure the correct temperature of the water as both too hot and too cold can cause the activation process to fail.

While the yeast is proofing, sift and whisk your dry ingredients together in a medium bowl and whisk until thoroughly mixed. Set aside.

Once your yeast is done proofing, add egg, chia-water mix, olive oil and vinegar to a large mixing bowl. Mix with a whisk or electric mixer for a couple minutes until light and frothy.

Add the flour mixture gradually, mixing until thoroughly incorporated. Use the dough hook attachment if using an electric mixer. Your dough will be quite thick by the end and form into a ball.

Cover bowl with a tea towel and place in a warm draft-free space for 20-60 minutes. You want to do 20 minutes for a denser bagels, and 40-60 for fluffier ones. (*I usually go for around 30-35 minutes.)

Preheat oven to 350F while dough is proofing.

Add dough to a bagel mould for 6 bagels (*I use this silicon bagel mould. Alternatively, you can hand roll them. Brush the top with an egg wash if using (helps with browning and to keep toppings stuck to bagels), sprinkle with toppings of choice (try my everything bagel seasoning, or use sesame seeds, flaky sea salt like Maldon or Fleur de sel, poppy seeds, etc), and bake for about 20-25 mins until deep golden. Check in on them at around 10-13, and cover with aluminum foil if they're browning too quickly.

Allow the bagels to cool completely for best texture, as the bread will continue to cook while cooling resulting in a better crumb. Store in an airtight container at room temperature for a couple days and toast lightly before serving. Or store in the freezer up to one month. I recommend slicing them in half if freezing so you can toast the straight from the freezer.

To serve, slice and toast for best texture then top with cream cheese, butter, chia jam, nut or seed butter, or whatever spreads you like!
I just LOVE these bagels for a filling snack to take on the go. They're great for picnics, camping, and make a convenient lightweight food you can take backpacking.
Did you give this keto bagel recipe a try? If so, let me know what you think in the comments. Or if you share any pics on Instagram, tag me so I can see your creations. Happy baking! :)