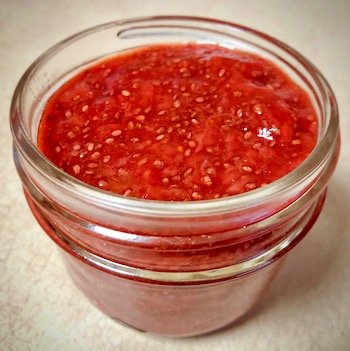 Chia jams are so easy to make and don't need to sit in a jar for weeks before they're ready to eat. It only takes around 10 minutes to make and then however long it take for it to cool before it's ready to use, making it a super convenient condiment for any occasion.
Keto Chia Jam Recipe
Ingredients:
1 cup berries of choice (fresh or frozen)
1/2 tablespoon lemon juice (freshly squeezed if possible)
1 tablespoon chia seeds (*Grind then in a spice grinder first for a smoother consistency.)
1 teaspoon erithrytol
10 drops liquid stevia (*or to taste)
Directions:
Cook your berries of choice (raspberries, blackberries, blueberries, strawberries, etc all work for this recipe) in a saucepan over medium heat until they begin to break down, about 5 minutes.

While the berries are cooking, put the chia seeds and erithrytol in a spice/coffee grinder and grind until powdered.

Stir the lemon juice, erithrytol and liquid stevia into the berries. Mash it down or leave it chunky.

Cook for 5 more minutes, remove from heat and allow to cool and thicken, adding water if needed to thin out until desired consistency is reached.

Allow to cool to room temperature and store in an airtight container in the fridge for a week or two and in the freezer for up to three months. Use with keto waffles/pancakes, on keto bread, baked Brie, keto vanilla ice cream or whatever else you like!
What are some of your favourite ways to use keto chia jam? Please share in the comments or if you make this recipe let me know there too. And, of course, if you share any pics of your creation on Instagram, tag me so I can see them. :)