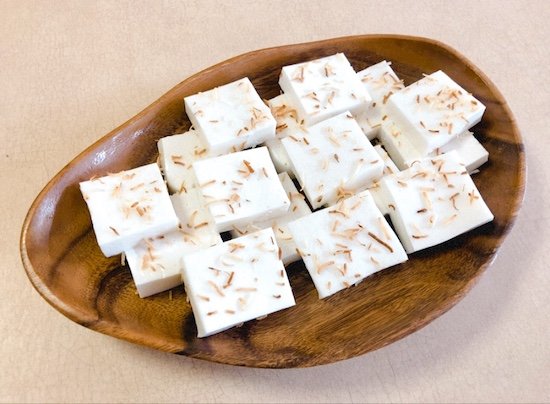 Hawaiian haupia, a popular choice at Hawaiian luaus and potlucks, is a simple coconut dessert that's easy to make. This low-carb, keto-friendly version uses gelatin (or agar agar for the vegan option) to thicken instead of arrowroot flour or corn starch, and low-carb sweeteners instead of sugar. It can be eaten as is, or it can be used as a base for other desserts.
Keto Hawaiian Haupia
Ingredients:
Directions:
Spray an 8x8" square pan with cooking spray. In a medium mixing bowl, whisk together water and gelatin and set aside to bloom.

Add coconut cream to a small saucepan and heat over medium heat.

When the coconut cream just starts to simmer, whisk in the sweetener. Continue to simmer until sweetener is completely dissolved. Remove from heat.

Pour hot coconut cream mixture into the bowl with the gelatin and water. Whisk to combine. Pour into prepared pan and allow to cool on the counter to room temperature. Once at room temperature, put in the fridge until fully set. Cut into 2" pieces and serve.
Did you make this keto Hawaiian haupia recipe? If so, please let me know how it turned out in the comments. Or if you share pics of your creations on Instagram, please tag me so I can see them. Enjoy!