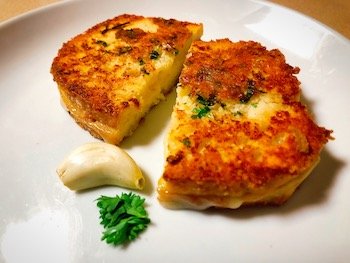 I saw someone share the idea of garlic bread grilled cheese on Facebook, and having a fresh loaf of eggless keto bread ready to go, I couldn't NOT make my own keto version of this recipe. Since I'm a fan of the inside-out grilled cheese sandwich, with its crispy, caramelized crust on the outside of the sandwich, I decided to merge the two into one fantastically keto sandwich. :)
Keto Inside-Out Garlic Bread Grilled Cheese Sandwich Recipe
Ingredients:
1 clove garlic, minced
⅛ teaspoon flaky sea salt (Maldon or Fleur de sel
2 tablespoons unsalted butter, softened
½ tablespoon extra virgin olive oil
1 tablespoon fresh parsley, finely chopped (or ¼ teaspoon dried parsley)
4 slices eggless keto bread
4 tablespoons old cheddar cheese, separated (2 tablespoons/2 tablespoons)
50g old cheddar cheese, sliced and separated (25g per sandwich)
Directions:
Mash garlic and salt into a paste. Mix in softened butter, olive oil and parsley.

Place bread on a cutting board and spread garlic butter over the top side of each.

Heat a small non-stick skillet to medium-low heat. Sprinkle 2 tablespoons of cheddar into two small piles on the skillet. Allow to a melt for around 20-30 seconds then take 2 slices of bread, garlic butter side down, and press into the cheese piles in the skillet, making sure you swipe it all into the slices of bread. Top each with cheddar slices. Top with remaining 2 slices of bread, garlic butter side up.

When underside is golden brown, after around 4 minutes, add remaining tablespoons shredded cheddar in two small piles, allowing them to melt once again. Flip the sandwiches onto the piles of cheese and swipe to include all the melted cheese into the other side of the sandwich.

Gently press down on sandwich with a spatula to encourage even browning and to help melt the inside cheese. Cook until second side is golden brown and inside cheese is melted. Makes two sandwiches that you can gobble up as soon as they're ready.
Thoughts? Did you like this recipe as much as I did? What kind of soup did you have it with, if any? Let me know your thoughts in the comments. Or if you share any pics on Instagram, please tag me so I can see your creation. Enjoy! :)