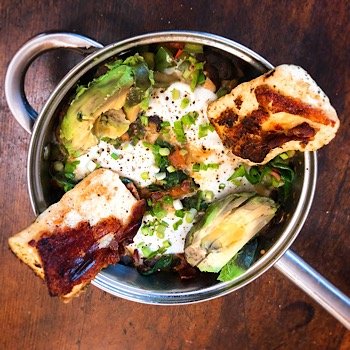 More Korean fusion? Yes, please! This time I made a pizza inspired by Korean cooking, including pork bulgogi, kimchi, and a gojuchang pizza sauce, giving a spicy, umami meat pizza with sour notes to take the edge off the fattiness of the meat and cheese.
Keto Korean Pork Bulgogi Pizza with Gojuchang Pizza Sauce Recipe
Gojuchang Pizza Sauce Ingredients:
*Korean Pork Bulgogi Pizza Ingredients:
Directions:
Prepare your choice of keto pizza crusts and allow to cool. If using the sourdough pizza crust recipe, you do not have to wait for it to cool.

Preheat oven to 450F (or maintain heat at 350F for sourdough pizza crusts). Spread gojuchang pizza sauce across both crusts. Then top with kimchi, pork bulgogi, red onions and cheese. Top with crispy bacon crumbles (if using.)

Cook in preheated oven for 12-15 minutes (or 17-20 minutes for sourdough pizza crust) or until cheese is melted and bubbly. While the pizza is cooking, whisk together mayo, sriracha and kimchi brine to make drizzling sauce.

Remove from oven. Drizzle with sriracha mayo drizzle, top with green onion and sesame seeds. Slice and serve.
Did you make this keto pork bulgogi pizza with gojuchang pizza sauce recipe? If so, please let me know how it turned out in the comments. Or if you share pics of your creations on Instagram, please tag me so I can see them. Enjoy! :)