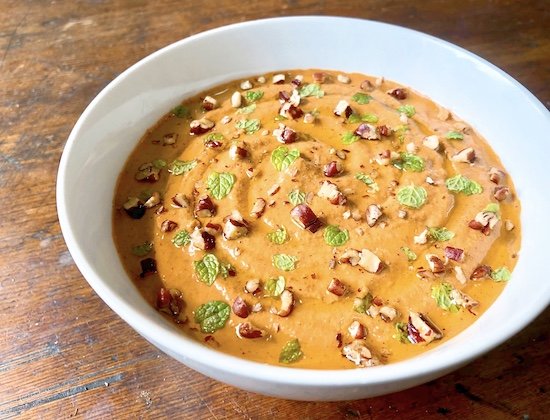 I had some extra peppers to use that inspired me to try making a roast red pepper dip. I'm sure glad I did! When Iearned this wonderfully flavourful Lebanese dip, I knew this was the one to attempt to ketofy. Combining roast red peppers with nuts, olive oil and Mediterranean herbs and spices made this recipe a perfect candidate for a healthy, low-carb dip. The main keto-friendly substitution was changing out the pomegranate syrup for balsamic vinegar, to cut down on the sugar content.
Keto Lebanese Roast Red Pepper Dip (or "Muhammara")
Ingredients:
Directions:
Preheat the oven to 400F. Add the peppers on a rimmed baking sheet or baking dish, and roast in the oven.

Roast the peppers for 30-45 minutes, flipping them every 15 minutes so they'll roast evenly. They will collapse and soften, and their skin will blacken and blister.
Remove from oven.

If you need to use the bell peppers right away, cover them with a silicon mat, and allow to rest for 15 minutes. This allows the steam from the peppers to loosen the skin, making it easier to peel.

If you're roasting the bell peppers in advance, allow to cool completely, transfer to an airtight container, and place in the fridge. After a few hours or overnight, the skin will peel off easily.

Peel the skin off of the peppers with your fingers. Add peppers, garlic, ground cumin, walnuts or pecans, chili flakes, lemon juice and salt to a blender and blend till smooth. Add olive oil and pulse a few times till combined.
7, Top with additional chopped nuts, mint and a drizzle of olive oil. Serve with keto bread or cut veggies.
Did you make this vegan keto Lebanese roast red pepper dip (Muhammara) recipe? If so, please let me know how it turned out in the comments. Or if you share pics of your creations on Instagram, please tag me so I can see them. Enjoy! :)