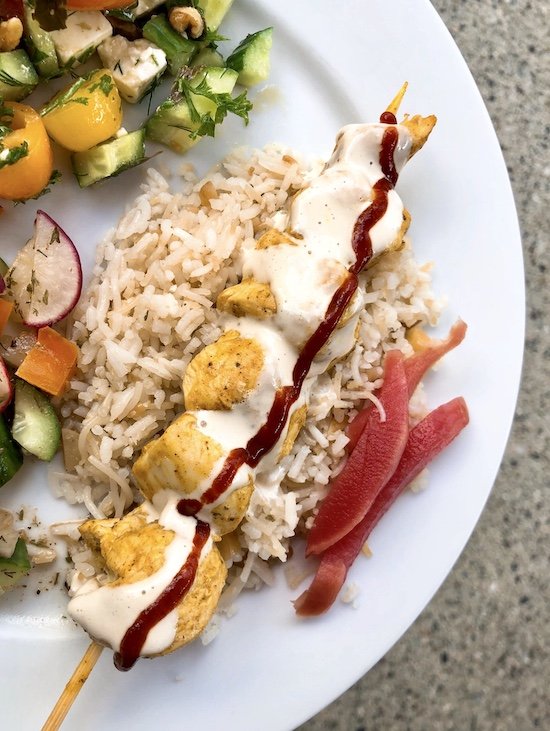 Shawarma is one of my favourite late-night foods that I used to eat all the time in Ottawa, where there is a thriving Lebanese community. I was craving that juicy meat coated in garlic tahini sauce so I decided to take a stab at making my own for a BBQ I was hosting. I'm happy to say that it was a hit.
Keto Lebanese Shawarma Kabobs Recipe
Shawarma Marinade Ingredients:
Meat for kabobs: 3lbs boneless, skinless chicken, beef, lamb or pork (your choice of cut, though fatty cuts work best), cut into 1" cubes. (*Use chicken breast or pork loin for a carb-up meal.)
Directions:
Blend the together spices, olive oil, lemon juice and apple cider vinegar in a blender for 1 minute.

Add chicken in a large glass bowl or container. Pour shawarma marinade over the meat and toss to coat. Cover and refrigerate around 2 hours for chicken or at minimum 6 hours (but not more than 24) for beef, lamb or pork.

Add a grill mat to your BBQ's grill. Preheat your grill or oven to 400F or 425F red meats. If cooking chicken, use indirect heat by heating your BBQ with the opposite side while keeping your cooking side turned off. Slide the marinated meat onto the soaked bamboo or metal skewers. Working in batches, grill the chicken on all sides until the meat is cooked to desired level (*If using chicken it must be cooked through.)

Serve with garlic tahini sauce and sriracha in pita (keto version for keto) or over cauliflower rice (regular rice for carb-up) along with Lebanese pickled turnip.
Did you make this Lebanese shawarma kabobs recipe? If so, what did you think? Please share your thoughts in the comments. Or if you share pics of your creations on Instagram, please tag me so I can see them. Enjoy! :)