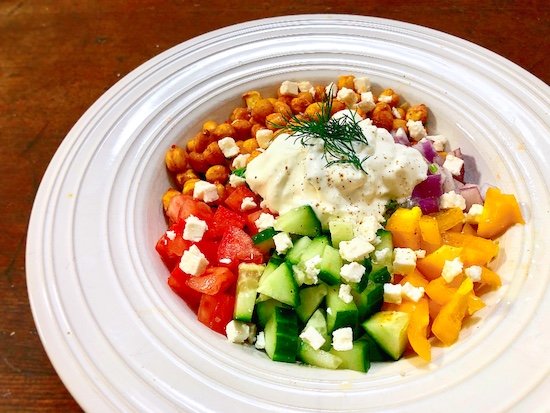 Sometimes I don't want the hassle of cooking up something complicated for a carb-up meal. This salad is the perfect solution for just such occasions. By using pre-roasted chick peas and store-bought tzatziki (if I'm feeling particularly lazy), I can whip this salad up super quick with minimal prep works and zero cooking.
Carb-Up Mediterranean Salad with Crispy Chick Peas and Tzatziki Recipe
Ingredients:
2 cups wild rice blend or quinoa (or other grain) pre-cooked with vegetable broth
¼ cup fresh mint, chopped, plus extra for garnish
2 tablespoons fresh parsley, chopped, plus extra for garnish
1 cup roast chick peas
½ teaspoon smoked paprika (*optional)
2 cups baby spinach leaves
½ cup cucumbers, sliced
¼ cup red onion, thinly sliced
½ cup tomatoes, diced
½ cup tzatziki (made with 0% fat Greek yogurt to keep it low fat)
¼ cup feta, crumbled
2 teaspoons [extra virgin olive oil}(extra virgin olive oil) Directions:
Toss roast chick peas in smoked paprika if desired.

Add ½ the rice/grains to two separate serving bowls. Top each with half the chick peas, cucumber, onion, and tomatoes.

Add a 1/4 cup dollop of tzatziki on top of each bowl, then sprinkle half the feta on on each. Garnish with fresh herb and a light drizzle of olive oil.
Did you make this vegan carb-up sweet potato oatmeal raisin cookies recipe? If so, please let me know how it turned out in the comments. Or if you share pics of your creations on Instagram, please tag me so I can see them. Enjoy! :)