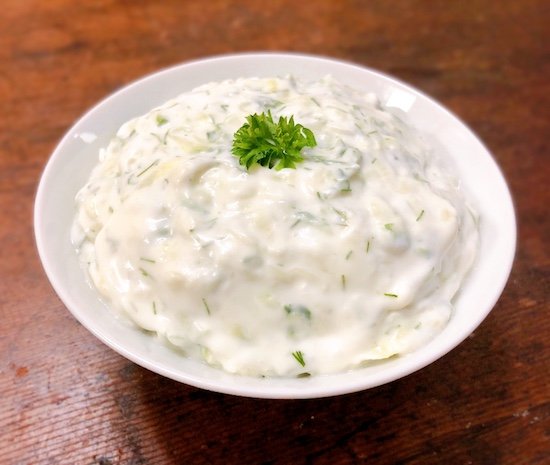 An ultra-thick, tangy, creamy homemade high-fat yogurt is the perfect base for a keto-friendly tzatziki. Nothing fancy or obscure, just a really good base is what makes this recipe. Using coconut cream is about option to make it vegan, but be sure to add extra lemon juice to help replace the tanginess you would normally get from yogurt.
Keto Tzatziki Recipe
Ingredients:
1½ cups, cucumber grated
1 cup homemade high-fat yogurt that has been allowed to thicken 15+ hours (*Sub with ¾ cup coconut cream and ¼ coconut milk beverage or firm tofu for vegan.)
2 tablespoons extra virgin olive oil
2 garlic cloves, minced
2 teaspoons lemon juice, freshly squeezed (double this if using either vegan option as your base)
½ teaspoons flaky sea salt (like Maldon or Fleur de sel)
2 teaspoons fresh dill, finely chopped
2 teaspoons fresh parsley, finely chopped
Directions
In a medium bowl, stir together everything together except the cucumber.

Wrap the minced cucumber in a cheese cloth or kitchen towel and squeeze out as much water as possible. Stir the cucumber into the bowl.
Did you make this keto tzatziki recipe? If so, please let me know how it turned out in the comments. Or if you share pics of your creations on Instagram, please tag me so I can see them. Enjoy! :)