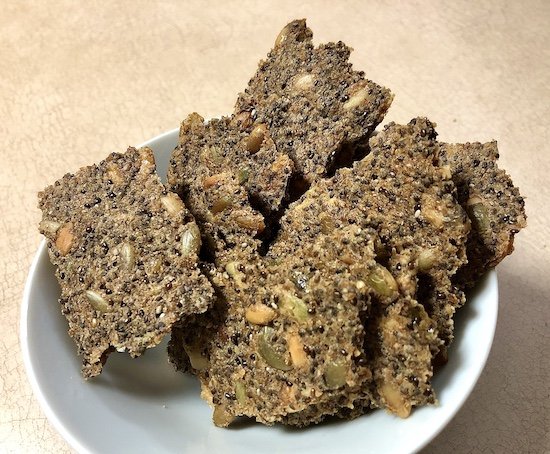 I've made a few different keto cracker recipes over the years. I decided to try something different that doesn't use almond flour as a base having recently found out I have a sensitivity to almond flour. I wanted to use different power seeds along with some quality fats from my vegan butter recipe. This recipe gives birth to tasty, super crispy crackers that holds up to dipping and layering.
Vegan Keto Mixed Seed Crackers Recipe
Ingredients:
Directions:
Preheat oven to 300F combine all the dry ingredients. Add in the butter and hot water and mix the ingredients together until a dough forms with a gel-like consistency.

Roll out the dough on a silicon mat or parchment paper. Sprinkle with flaky sea salt if using then bake on a baking sheet for 50-60 min, rotating it halfway through. Pay close attention when it's close to being done. Pumpkin seeds should be browned.

Remove from oven and allow to cool and dry at least one hour. Break into small pieces. Serve with your favourite dips or use for making cracker-based appies.
(*Note: You might need to experiment with the cooking times. If they aren't crispy after an hour, put it back in the oven for another 5-10 minute. Adjust baking times as necessary.)
Did you make this vegan keto mixed seed cracker recipe? If so, please let me know how it goes in the comments. Or if you share pics of your creations on Instagram, please tag me so I can see them. Enjoy! :)