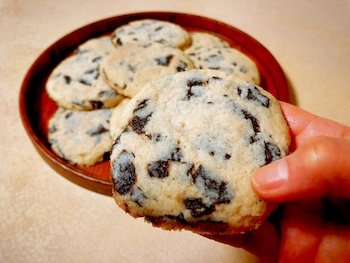 I just LOVE this keto chocolate chip cookie recipe! It's yet another re-creation of a feel-good, comfort food from almost any North American's youth. It has just the right amount of crispness on the edges with a good chewiness in the centre. These ones are on the non-traditional side because of one particular ingredient, but you wouldn't know why when you eat them: bacon fat! Some of the butter is swapped out for the salty-sweet love that only comes from bacon. Give it a try if you have the bacon grease handy. You won't regret it!
"Om-Nom-Nom" Keto Chocolate Chip Cookies
Ingredients:
Directions:
Add almond flour, coconut flour, glucomannan, salt, baking soda and xanthan gum to a medium bowl. Whisk until thoroughly combined and set aside.

Cream butter and bacon grease in a large bowl with an electric mixer until softened, 1-2 minutes. Add in erithrytol and continue to cream until light and fluffy (about 8 minutes).

Add in vanilla extract, stevia drops and egg, mixing until just incorporated. The mixture will appear slightly 'broken' (i.e. not thoroughly smooth).

With your mixer on low, add in half of your flour mixture, mixing until just incorporated. Mix in the rest.

Fold in chocolate chips. Cover with plastic wrap and refrigerate for 1 hour.

Preheat oven to 350F and line a baking tray with parchment paper or a silicon mat. If you use a silicon mat, the cookies won't spread much as they bake so make sure they're shaped the way you want them from the start.

Divide cookie dough into 18 rounds for 3 ½-inch cookies (or 12 if you prefer larger cookies), and flatten them to your liking (the flatter they are, the crispier they'll be).

Place cookie dough on the prepared baking tray (or freeze for later use). Bake for 10-12 minutes for smaller cookies and 13-15 minutes for large ones, rotating the tray 180° halfway through.

Garnish with flakey sea salt and allow the cookies to cool completely on the trays (sugar alcohols can take a few hours to crisp up, so don't despair!). Store in an airtight container for three to four days or freeze in an airtight bag or container.
There are so many different renditions of the keto chocolate chip cookie. What's your favourite version? Please share in the comments or if you make these, let me know how it goes there. If you post any pics of your creation on Instagram, tag me so I can see how it went. Happy baking!