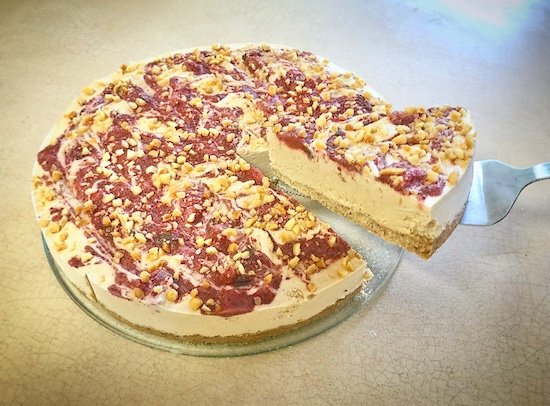 After rocking two different frozen tofu desserts a couple of months back, I wanted to make a similar cake using the familiar flavours of PB&J. Who doesn't love that childhood classic? Put that together in with a pecan-almond crust and you get this comfort food in the form of a vegan keto frozen cake.
Vegan Peanut Butter and Jam Tofu Frozen Cake Recipe
Ingredients:
Directions:
Prepare your crust. Once cooled to room temperature, put it in freezer for at least 4 hours or overnight.

In a blender or food processor, puree all of the ingredients for tofu base (excluding the jam) until very smooth.

Pou frozen peanut butter tofu mixture into the springform pan on top of the prepared crust, smoothing the top with a spatula. Spread rows jam across the top of the peanut butter tofu layer. Use a knife to cut into the jam to create swirls of jam in the top layer. Sprinkle chopped peanuts over the top of the cake then and put in the freezer overnight or until fully frozen.

When you're planning to serve it, remove it from the freezer and allow to thaw 15-30 minutes (depending on how warm it is) before slicing and serving.
Did you make this vegan keto peanut butter and jam tofu frozen cake recipe? If so, please let me know how it turned out in the comments. Or if you share pics of your creations on Instagram, please tag me so I can see them. Enjoy! :)