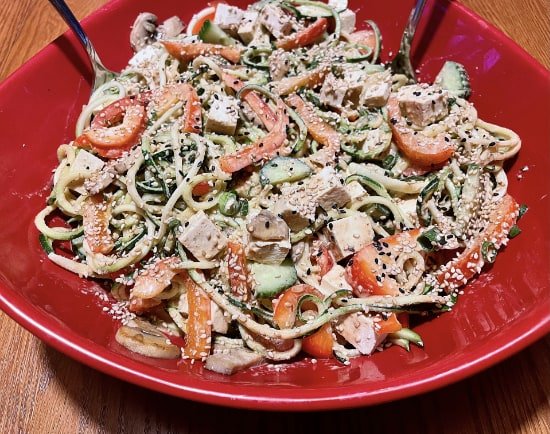 I had a student that used to bring this recipe to every dojo BBQ we ever had. It was always enjoyed by all, even me, which was tough because the soba noodles were far from being keto-friendly, but I make exceptions for special occasions. In this version, I use zucchini noodles instead, and swap out the honey for a keto-friendly sweetener. I also doubled the tofu to make it more satisfying as a main dish, or you could leave it at half the amount and use it as a side dish for a BBQ or picnic. Either way, because of the zucchini noodles, you kinda want to make it serve it as soon as you combine it with the dressing and pretty much eat it all at once otherwise the water from the zucchini noodles leeches out into the dressing making it really watery.
Vegan Keto Peanut Sesame Zucchini Noodles Recipe
Peanut Dressing Ingredients:
Noodle Salad:
1½lb zucchini noodles
4 green onions, thinly sliced
1 cup shiitake mushrooms, sliced (*May sub with other mushrooms.)
1 teaspoon avocado oil
1 red bell pepper, thinly sliced
½ English cucumber, thinly sliced
400g firm or extra-firm tofu, cubed
3 tablespoons toasted sesame seeds (*I used both black and white ones for more colour.)
Directions:
Blend dressing ingredients in a blender until smooth, around 2 minutes. Pour into an airtight glass bottle until ready to use.

Add avocado oil to a small frying pan and heat to medium. Add the mushrooms and stir fry until cooked through. Remove from heat and allow to cool.

Add zucchini noodles, green onions, bell peppers, cucumber, cooked mushrooms and tofu to a large bowl. When ready to serve, pour the dressing over the salad and toss. Garnish with toasted sesame seeds. Serve immediately.
Did you make this vegan keto peanut sesame zucchini noodle salad recipe? If so, please let me know how it turned out in the comments. Or if you share pics of your creations on Instagram, please tag me so I can see them. Enjoy! :)