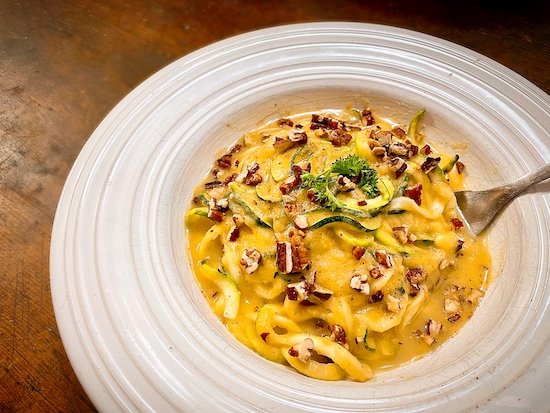 Pumpkin is so versatile, and it's a good thing it is because I always have a ton of it after Halloween. This keto-friendly pumpkin pecan noodles recipe is a satisfying way to sauce up some zucchini, konjac or other low-carb noodles. It's rich and satisfying, but without necessarily needing any dairy to make it that way (though it's perfectly fine if you want to use it too). If you want to make it into bigger meal, feel free to add a protein to it, tofu/tempeh, shrimp, fish, chicken or beef all can work in this versatile sauce.
Vegan Keto Pumpkin Pecan Noodles Recipe
Directions:
Add butter to a medium stock pot and heat to medium heat until melted. Add onion and sauté until translucent. Add garlic and spices and sauté until fragrant, around 1-2 minutes.

Add vegetable broth and pumpkin puree, Bring to a boil on medium/high heat while slowly stirring the ingredients together. Cover, reduce heat to low and allow to simmer until thickened, around 10 minutes.

Once the sauce has thickened, stir in the cream cheese, butter and a handful of pecans, leaving some to garnish the dish. Stir in your chosen noodles until coated and heated through. Remove from heat. Season with additional salt and pepper to taste. Garnish with chopped parsley, crushed, toasted pecans and enjoy!
Did you make this vegan keto pumpkin pecan noodles recipe? If so, please let me know how it turned out in the comments. Or if you share pics of your creations on Instagram, please tag me so I can see them. Enjoy! :)