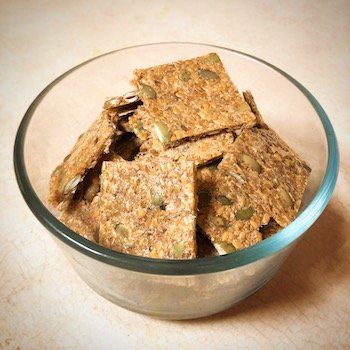 This recipe provides an alternative to the golden flax seed cracker that's holds up better for spreads or heavier toppings. It requires more ingredients but it also takes less time to prepare. But then if you only have flax seeds in your cabinet, then the golden flax seed cracker recipe is the only way to go. Try them both though, as they bout have their place.
Keto Pumpkin Seed Flax Crackers Recipe
Ingredients:
Directions:
In a small mixing bowl, add all ingredients except the water and stir together. Add in water, let soak for at least 30 minutes to absorb water.

Preheat oven to 400F. Using 2 silicon mats or sheets of parchment paper flatten out dough.

Bake for 23-28 minutes or until they're nice and crispy. Allow cool completely before you cut or break them into pieces. Store in a sealed bag or container at room temperature. Enjoy!
Which keto flax cracker recipe to you prefer? This one or the golden flax seed cracker recipe? How will you be putting this recipe to use? Please share your thoughts in the comments or if you post pics on Insta