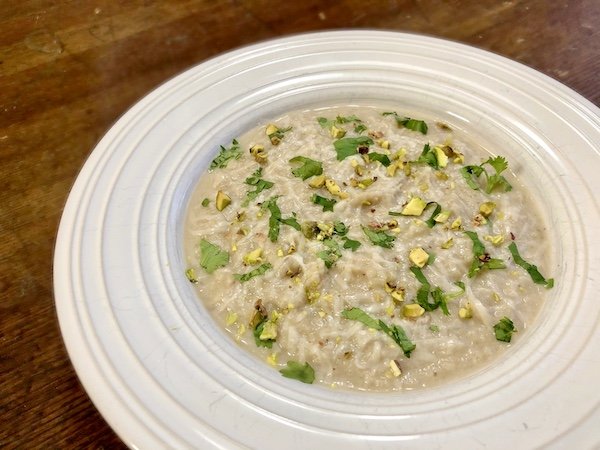 Cream soups don't necessarily need to have actual cream in it. Using veggies like kohlrabi and cauliflower that have their own inherent creaminess when cooked and pureed is a completely different plant-based approach to doing up a cream soup that is just as hearty and filling. On a chill, fall day like today, this keto-friendly roast kohlrabi cauliflower cream soup really hits the spot!
Keto Roast Kohlrabi Cauliflower Cream Soup Recipe
Ingredients:
1 medium head of cauliflower, broken into florets
2lb kohlrabi (around 2-3 bulbs) peeled with stems removed and the bulbs cut into pieces
1 cup white mushrooms, chopped
4 tablespoons avocado oil, divided
1 teaspoon kosher salt, divided
1 yellow onion, diced
4 garlic cloves, roughly chopped
1 tablespoon nutritional yeast
2 teaspoons ground sumac
¾ teaspoon dried thyme
¾ teaspoon ground mustard
¼ teaspoon freshly ground black pepper (or to taste)
4 cups bone broth (*Or vegetable broth for vegan.)
2 teaspoons anchovy paste (*Or vegan Worcestershire sauce for vegan.)
3 tablespoons lemon juice, freshly squeezed
½ cup coconut cream
Chopped fresh cilantro, for garnish
White truffle oil (*Or extra virgin olive oil if unavailable.)
Grated Parmesan (*Use homemade vegan parmesan cheese for vegan.)
Roast pistachios, or slivered almonds, chopped
Directions:
Preheat the oven to 425 degrees. Drizzle 2 tablespoons of avocado oil over the kohlrabi and cauliflower and sprinkle with ½ teaspoon kosher salt. Roast in the oven for 30-40 minutes, or until fork tender.

In a large pot, heat 2 tablespoons of avocado oil over medium heat. Add onions and ½ teaspoon of salt, and cook for 3-4 minutes, or until translucent. Add in the mushrooms and garlic and cook until garlic is fragrant, about a minute or so. Stir in thyme, sumac, ground mustard and pepper and sautéed until fragrant. Next, add the roasted vegetables, mushrooms, nutritional yeast, anchovy paste (or Worcestershire sauce) and broth. Turn up the heat to medium-high and bring to a soft boil. Reduce heat to low and simmer it for 15 minutes or so, stirring occasionally.

Puree the soup either with an immersion blender or in batches using a traditional blender. Stir in the lemon juice. At this point, you will want to check the seasoning. If needed, add more salt. Finally, stir in the coconut cream. Garnish each serving with cheese (if using), cilantro and chopped pistachios.
Did you make this keto roast kohlrabi cauliflower cream soup recipe? If so, please let me know how it turned out in the comments. Or if you share pics of your creations on Instagram, please tag me so I can see them. Enjoy!