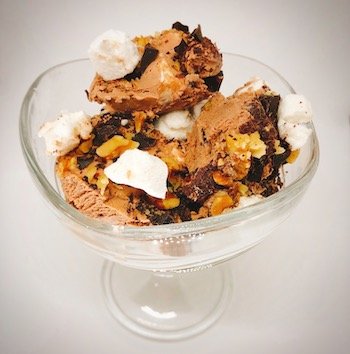 Round two of comfort food recipes. This time I made a keto-friendly, low-carb rocky road ice cream, a solid choice for a comfort food when you're sad, depressed, grieving or even for helping soothe you when you have a cold (provided that you don't have bad reactions to dairy... in which case you could make it using coconut cream instead of heavy cream, but I digress...).
I've always found ice cream to be a comfort food. As a child, it was one of the foods I might get to eat as a treat when I was home sick. We all know that sweet foods (even ones without sugars as I've been reading in this article), trigger a brain response that releases dopamine, which has a whole host of benefits. These include: increased motivation, anticipation of pleasure, focus, extraversion, memory/learning, creativity, etc, while also decreasing inflammation and nausea). On top of the sweet factor, fatty acids are also known to help with sadness/depression (Read Why Ice Cream Chase's the Blues Away for more info.
I like almost any flavour, but rocky road is a good choice for someone going through a sad time, with all the cocoa and dark chocolate, you definitely get a significant dose of flavonoids that are powerful anti-oxidants help boost your immune system and can also help improve mood. Walnuts are one of the richest plant sources of omega-3 fat, which supports brain function and reduces depression symptoms.
Marshmallows (ones made with marshmallow root tea), brings a soothing character to the ice cream. Not only can marshmallows and their soft, chewy texture remind us of good times in our youth. If yours are made with marshmallow root tea like mine are, you'll also get benefits to soothe your body, with anti-inflammatory properties for your digestive tract as well as mucilage that can help keep your respiratory tract healthy, as well as soothe a sore throat if you come down with a cold, which is more likely to happen since the immune system often takes a beating when you're depressed.
Well, enough about the benefits. Let's make some keto-friendly rocky road ice cream!
Keto Rocky Road Ice Cream Recipe
Ingredients:
Directions:
Beat eggs with cream of tartar with a mixer until frothy.

Add xylitol, a little at a time until mixture thickens, then add cocoa and espresso powder.

Add all remaining ingredients and mix well, but don't overdo it or else the cream will start to form a frothy layer on top.

Chill ice cream mixture for at least 1 hour.

Add chilled mix to ice cream maker and follow the manufacturer's instructions for your model.

Add ⅓ of the mini marshmallows, nuts and chocolate chunks to the bottom of a wide flat container. Add ½ the ice cream mixture. Add another ⅓ of the mix-ins then the rest of the ice cream. Give it a gentle stir then smooth out the top and add the remaining mix-ins evenly to make the top looks pretty. Freeze at least 4 hours (overnight is best).
What are you favourite ice cream recipes, ones that give you the most comfort and take you to a carefree time in your youth and make you forget all your adult troubles? Tall order, I know, but please share your faves on the comments and I'll see if I can make some keto versions of them. If you make this recipe, let me know how it goes too. If you post any pics of your creations on Instagram, throw me a tag so I can see them. Thanks! Hope you're all doing better than me during this hard time...