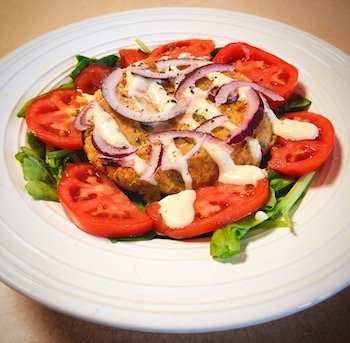 Looking for a quick and easy hot meal you can make when you don't have a lot of time? This salmon (or mackeral) Fish burger patty recipe gives you all the desirable omega-3 fats in one tasty puck.
I like to buy frozen salmon burger patties when I can find them on sale at a reasonable price, but this doesn't happen all that often so this is my next best option. It does work with either salmon or mackeral, which is nice for adding more variety to your diet, or for convenience if you only happen to have one or the other on hand.
"Flippin' Fish Salmon (or Mackerel) Keto Burger Patties
Ingredients:
Directions:
Place all the fish burger patty ingredients (except avocado oil) in a large mixing bowl and combine. Form into 4 patties.

Heat avocado oil on medium-low in a frying pan and cook the patties. Cook on each side for 6-7 minutes and flip with a spatula. *TIP: If a patty does not release when you try to flip it, cook a little longer until it is crispy and ready to flip.

Serve in a lettuce bun with sliced tomato and red onion or serve on a bed of spinach or arugula. Top with my recipe for creamy keto lemon garlic dill dressing, one of my creamy avocado sauce recipes, or whatever aioli or tartar sauce you prefer (*try mine though, it's sooo good!).
Do you eat fish burgers or patties regularly? How do you like to eat them? Please share in the comments or let me know how it goes if you try this recipe. If you share pics of your food creation on Instagram, please tag me so I can see them. :)