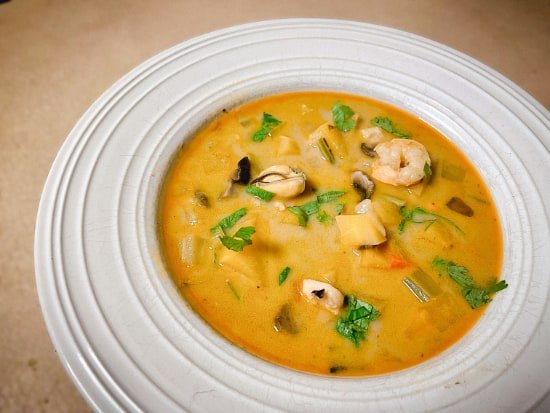 All this unseasaonably cold weather has cause me to crave soups and stews. Being on the west coast, I like doing seafood stews since we have access to wonderful local stuff. I also wanted to option of being able to make it dairy-free, in case I need to perform at my best since I have a sensitivity to cow's dairy. This seafood chowder had a variety of fish and shellfish, using a roux made from oat fibre using vegan butter OR avocado oil, and heavy cream OR coconut cream to give it that classic creamy chowder base.
Keto Seafood Chowder
Ingredients:
¼ cup ghee or unsalted butter (*Or homemade vegan butter for vegan.)
1 cup yellow onion, diced
Kosher salt, to taste
2 cloves garlic, finely chopped
¼ teaspoon celery seeds
¼ teaspoon sweet paprika
¼ teaspoon smoked paprika
⅛ teaspoon ground mustard
⅛ teaspoon ground ginger
1 bay leaf
Pinch of cayenne pepper
⅛ teaspoon white pepper
¼ teaspoon dried tarragon
¼ cup oat fibre
¾ cup mushrooms, diced
½ cup asparagus, diced
1 carrot sliced (*Or orange bell pepper for a lower carb alternative.)
1 lb rutabaga peeled and cubed
4 cups fish or chicken bone broth
8 oz fish cut into chunks (cod/salmon/basa/haddock)
26 oz mixed seafood (shrimp, scallops, squid rings, clams, mussels, etc.), thawed (if using frozen)
1 cup unsweetened coconut milk (*Or other non-dairy milk.
½ cup heavy cream (*May sub with coconut cream for dairy-free.)
2 tablespoons lemon juice, freshly squeezed
2 tablespoon fresh cilantro, chopped
Directions:
Melt butter over medium heat. Add onion and sauté until tender, around 3-4 minutes. Add garlic, paprikas, celery seeds, ground mustard, and sauté 1-2 minutes, or until fragrant.

Whisk in oat fibre and cook until frothy and browned, around 2-3 minutes. Gradually whisk in the broth a little at a time until fully incorporated.

Add carrot, celery, rutabaga, asparagus, broth bring to a boil. Reduce heat to low and simmer 10 minutes.

Stir in coconut milk beverage and cream, and heat through. Add fish and seafood fish and simmer until fully cooked and flaky and the rutabaga is tender, about 8-10 minutes.
Stir in lemon juice, cilantro and season with salt and pepper to taste. Ladle into bowls and serve hot.
Did you make this keto seafood gumbo recipe? Please let me know how it turned out in the comments. Or if you share pics of your creations on Instagram, please tag me so I can see them. Enjoy! :)