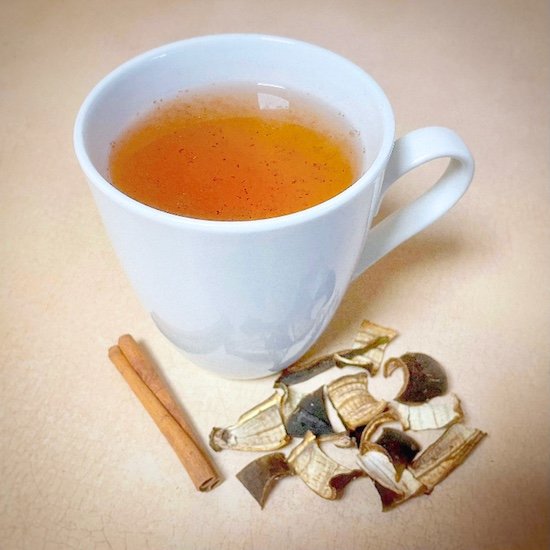 This delicious, mildly sweet sleepy time banana tea recipe naturally contains magnesium and potassium, both of which relax muscles, along with an amino acid that helps your body produce serotonin (a relaxation neurotransmitter) and melatonin (a sleep-inducing hormone). It is sugar-free and calorie-free, making it a perfect wind-down tea to prepare you for sleep without breaking your fast or spiking your blood sugar.
Vegan Keto Sleepy Time Banana Peel Tea Recipe
Ingredients:
Directions:
Place peel, cinnamon stick (if using) and water in a small pot and bring to a boil. Cover, reduce heat and simmer on low for 8-10 minutes. Remove from heat and strain out the peel. Add vanilla or vanilla stevia or pinch of ground cinnamon and/or nutmeg if desired before serving.
Did you make this vegan sleepy time banana peel tea recipe? If so, please let me know how it turned out in the comments. Or if you share pics of your creations on Instagram, please tag me so I can see them. Enjoy! :)