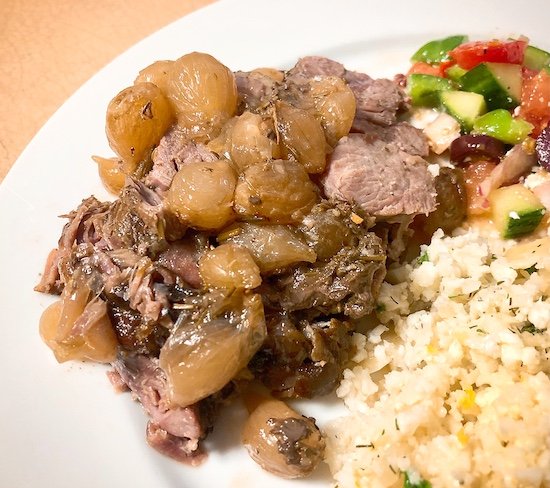 Roast lamb has always been a favourite food for me to order at Greek restaurants. Usually bone-in is tastier, but I wanted to do a boneless version, working with what I had. With the right seasoning and cooking method, it still worked out to be pretty tasty.
Keto Slow-Cooker Greek Boneless Leg of Lamb Recipe
Ingredients:
Directions:
Sprinkle the lamb with the salt. Wrap it in a plastic bag and put it on a cookie sheet. Stick it in the fridge for 36-48 hours, turning it over every 8-12 hours. On the cooking day, set it aside at room temperature for up to 45-60 minutes before continuing on.

Coat the bottom of a large skillet (I used my cast iron skillet) with avocado oil. Heat skillet over medium heat until oil is shimmering but not smoking. Add the lamb and brown well on all sides (increase heat to medium-high if needed); about 7 minutes. Remove from heat and let cool enough to handle.

Cut a few slits into the lamb on both sides and insert a slice of garlic in each of the slits.

Now make a wet garlic spice rub for the lamb. In a small bowl, combine the minced garlic, rosemary, thyme, oregano, and paprika. Add lemon juice and 3 tbsp extra virgin olive oil. Coat lamb on all sides with the garlic spice rub.

Add pearl onions (or shallots) to the bottom of a large slow cooker. Add wine and broth, then add the spiced lamb on top.

Cover slow cooker and set on low for 5 to 6 hours until lamb is fork-tender and you can easily pull it apart. Transfer to a serving platter adding the cooking juices when serving. Serve with Greek cauliflower rice pilaf, Greek roast rutabaga, and/or Greek salad.
Did you try this keto slow cooker boneless Greek roast leg of lamb recipe out? If so, let me know how it went in the comments, or tag me in any photos you share on Instagram so I can see your creation.