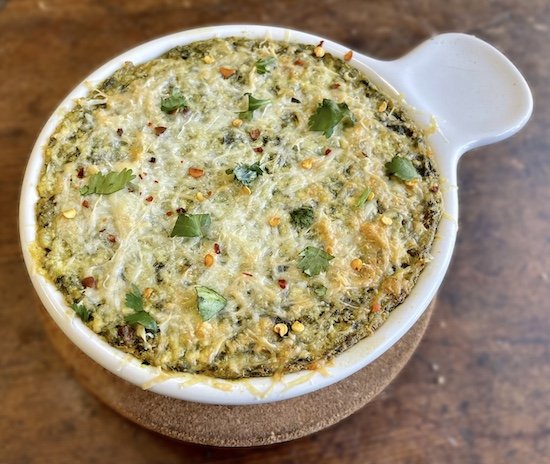 Here is yet another tofu-based dip to add to my growing list of lower calorie, vegan keto tofu dips: spinach artichoke tofu dip. I probably don't have to sell you on the merits of this classic combination, and the tofu base certainly doesn't detract from the flavours, though if you're set on cheese, you may miss it. That being said, if you have no reason to be dairy-free, you can always add a sprinkle on top instead of the vegan parmesan
Vegan Keto Spinach Artichoke Tofu Dip
Directions:
Directions:
Preheat oven to 375F. Add tofu, olive oil, non-dairy milk and lemon juice to blender. Blend until smooth. Add nutritional yeast, garlic, basil, onion powder, salt, black pepper, and process smooth and creamy. Add spinach and gently pulse until combined.

Pour mixture into a bowl and stir in chilli flakes and artichoke hearts. Smooth the top with a spatula or wooden spoon. Sprinkle with vegan Parmesan (*Or regular Parmesan/Roman if you don't need it to be dairy-free.)

Bake for 15-20 minutes, or until lightly browned on top. Garnish with fresh parsley. Serve warm with keto crackers, keto bread, or cut vegetables.
Did you make this vegan keto spinach artichoke tofu dip recipe? If so, please let me know how it goes in the comments. Or if you share pics of your creations on Instagram, please tag me so I can see them. Enjoy! :)