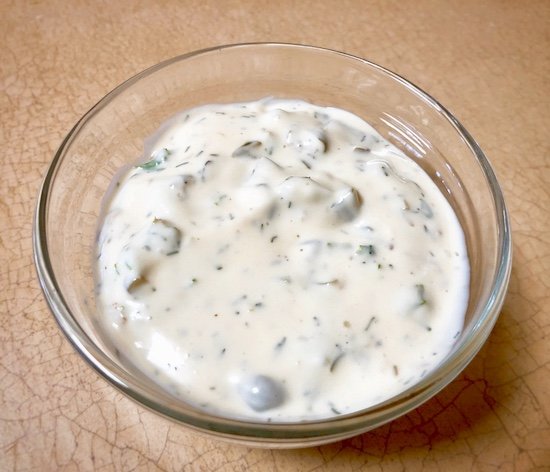 The world of condiments is so infused with sugar and tartar sauce is no exception. Since it's something I only have once in a blue moon I feel I'm better off whipping it up when I need it anyway, then I can make it with better, fresher ingredients and leave out the sugar.
Keto Tartar Sauce Recipe
Ingredients:
1 cup mayonnaise (*Store bought avocado-based mayo does NOT work great for this recipe. Make your own if you want to avoid less healthy oils or accept using a less healthy standard mayo and just eat in moderation.)
1½ tablespoons lemon juice, freshly squeezed
1 tablespoon lemon zest
2 tablespoons dill pickle, finely chopped
1½ teaspoons dill pickle juice
1 tablespoon fresh parsley, finely chopped
2 teaspoons fresh dill, finely chopped
1 teaspoon capers, finely chopped
5 drops liquid stevia
Pinch of freshly ground black pepper
sea salt, to taste
Directions:
Place all ingredients into a small bowl and mix well. Set aside for 30 minutes for the flavors to infuse. Serve as a condiment for keto fish patties or any other fish dish you like. Store in the fridge in a sealed container.
Did you try this keto tartar sauce recipe out? If so, let me know how it went in the comments, or tag me in any photos you share on Instagram so I can see your creation.