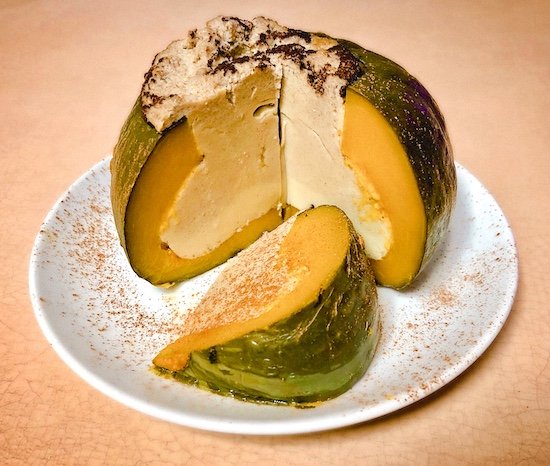 I was looking for unique pumpkin desserts that help celebrate the fall season, but without going down the more traditional baked options. After a little research, I learned of sankaya, a Thai pumpkin custard dessert that uses a whole, hallowed-out kabocha (Japanese pumpkin). You fill it with a custard made of eggs, coconut milk, and sweetener (using gold erithrytol monk fruit sweetener instead of brown sugar), steam for an hour, allow to cool and set, then slice into wedges for an attractive dessert that appeals to the eyes and tastebuds.
Ingredients
Directions:
Add about 8 to 10 cups of water to the base of a steamer. Place this on the stove and bring to a boil.

Cut and remove the top of the kabocha squash, like you would for Halloween. Scrape the seeds and pulp out completely.

Whisk together the eggs, coconut milk, sweetener, cinnamon, vanilla and salt until the sweetener is completely dissolved. Pour the custard into the cavity of the squash until full.

Carefully place the squash into the steamer and cover. Turn the heat down to medium-low and steam for about an hour. Do not open during this time as this can cause the squash to crack.

After about an hour, the top of the custard should have puffed up over the top. Pierce the custard with a wooden skewer, running it fairly deeply into the center. If it comes out clean, remove the squash from the steamer and allow the custard to continue setting at room temperature for at least 45 minutes. You can then eat it warm, if desired, but it's even better if you chill the pumpkin in the fridge another 3-4 hours and then slice into wedges. Sprinkle with ground cinnamon and/or drizzle with keto maple syrup or caramel and serve.