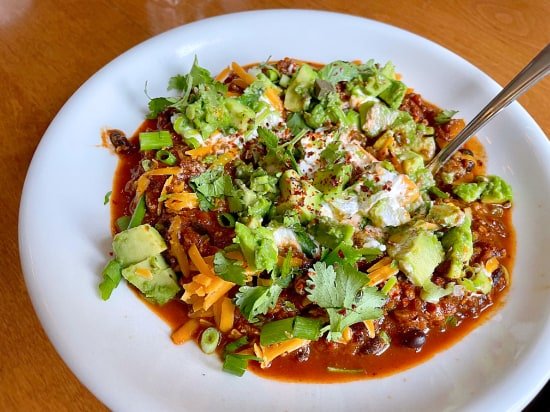 I used to use St. Yves Ground Round as a convenient vegan swap for ground beef in a number of recipes like chili, spaghetti bolognese, tacos, etc. I don't use it anymore after realizing that it had a number of less than desirable ingredients (i.e. non-organic soy protein, canola oil, sugar, guar gum, etc. I decided it was time to come up with a better, homemade alternative, so I can control the ingredients. It was a lot easier than I expected. With only 4 ingredients that I keep on hand regularly, it is a snap for me to make this whenever I want to adapt one of my ground beef recipes for when I feel like a meatless meal or am cooking for vegan guests. I threw it into my keto smoky chili recipe (as seen in the recipe photo), but it will easily work with other dishes as a cooked ground beef replacement.
Keto Tofu Ground Round Recipe
Ingredients:
Directions:
Preheat your oven to 350F. Line a baking sheet with parchment paper or a silpat mat, or lightly grease the pan. Whisk together nutritional yeast, soy sauce, and avocado oil together in a large bowl.

Open and drain the tofu (no need to press it), then break off chunks and crumble the entire block with your fingers into the bowl. Stir the tofu crumbles well making sure all of the tofu is evenly coated in the nutritional yeast mix.

Spread the tofu mixture evenly over the pan. Bake in the preheated oven for about 45 mins, every 10 minutes or so until browned. Keep an eye on it towards the end so that it doesn't burn. The smaller crumbles will be darker and have a different consistency than the larger crumbles, but this provides variety of texture. Use as needed for replacing ground beef in a recipe by stirring into whatever prepared sauce you have, allowing it to come to temperature with the rest of your dish.
Did you make this vegan keto tofu ground round recipe? Please let me know how it turned out in the comments. Or if you share pics of your creations on Instagram, please tag me so I can see them. Enjoy! :)