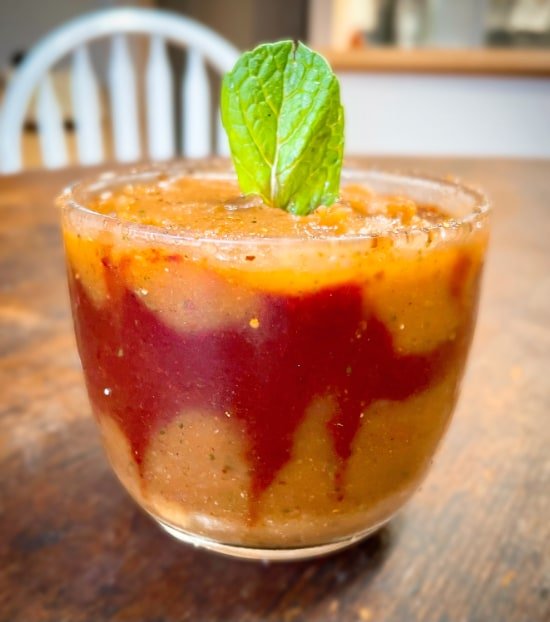 Missing travelling to Mexico? Here's a Mexican treat that will take you back there without having to leave your home other than to buy ingredients. This keto-friendly watermelon cucumber chamoyada is sweet, spicy, and herbaceous, and super-refreshing, highlighting an unique flavour combination made famous by our neighbours down south.
Vega. Keto Watermelon Cucumber Chamoyada Recipe
Frozen Mixture Ingredients:
Rimmer Ingredients:
2 teaspoons Lakanto granulated monk fruit sweetener
2 tablespoons Taijin seasoning
1 teaspoon ground mint
Optional Garnish Ingredients:
Watermelon slices
Cucumber slices
Mint leaves
Directions:
Add frozen watermelon and cucumber, basil and mint leaves, lime and lemon juice, lime zest, and sweetener, and blend until smooth. Set aside in the freezer.

For rimming the glass: In a mortar, combine sweetener, taijin, and ground mint. Work it with the pestle until you get a consistent powder. Wet rim of the glass and dip it in the rimmer mixture. Serve blended fruit mixture in three rimmed glasses, starting with one layer of the frozen mixture, then add 1½ tablespoons chamoy then finish with another layer of frozen mixture. You can use the handle of a spoon to create designs blending the layers around the sides if you like. Garnish with watermelon, cucumber, and mint leaves.
Did you make this vegan keto watermelon chamoyada recipe? If so, please let me know how it turned out in the comments. Or if you share pics of your creations on Instagram, please tag me so I can see them. Enjoy!