We all know that our consumable weight makes up a significant portion of our total pack weight. For my recent trip to the West Coast Trail, it made up for just over one third of my pack weight, but then that's mostly because my overall pack weight is ultralight so of course my consumable weight will take up a greater proportion. My main goals in my consumable choices were as follows:
Keep my pack as light as possible.
Keep me energetic and nourished.
Keep me ketogenic, using fat as my primary fuel source.
This worked out pretty well for me. I will go through all the details of it in this blog post.
My Consumable Strategy and Meal Plan for the West Coast Trail
For my recent trip to the West Coast Trail, I packed 3 full days of food with a touch extra in the form of trail mix just in case, knowing I would be exiting the trail on the fourth day in the mid-afternoon. Part of my strategy involved eating a huge meal the night before going on the trail and having a meal at the Crab Shack at the Nitnaht Narrows ferry, midway through the trail. I ordered the grilled salmon steak and a baked potato with sour cream, bacon, chives and margarine. I know the potato is a higher carb item, but felt that with all the extra activity, it wasn't a big deal to have it halfway through my 75km trek. But to add a little extra fat and flavour, I threw a couple of tablespoons of butter powder blended with a garlic herb seasoning bland to sprinkle on top of the salmon and potato.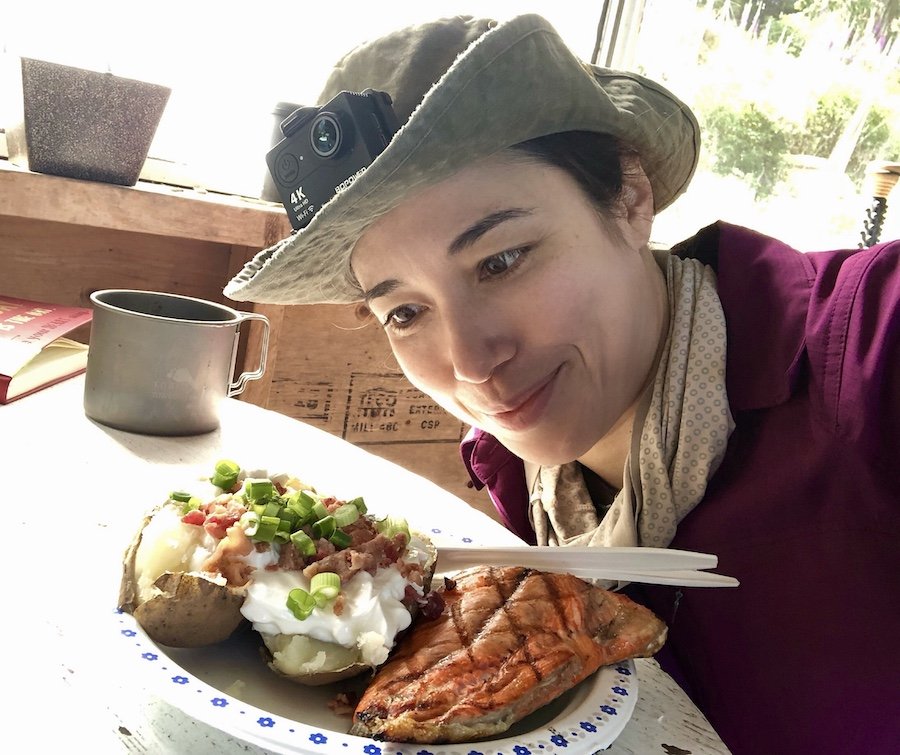 I went with the Esbit fuel cube stove for cooking as it made more sense for me to bring only the fuel I needed for such a short period of time (even the smallest canister available was overkill for a single person). I only needed one fuel cube per day, which would boil enough water for a single dehydrated camp meal and a cup of instant fatty golden green tea, so long as I used some sort of wind screen to maintain burn efficiency. I did have some trouble with that on the first and second days, having been a little hasty with my set-up, but I sorted it out by the third.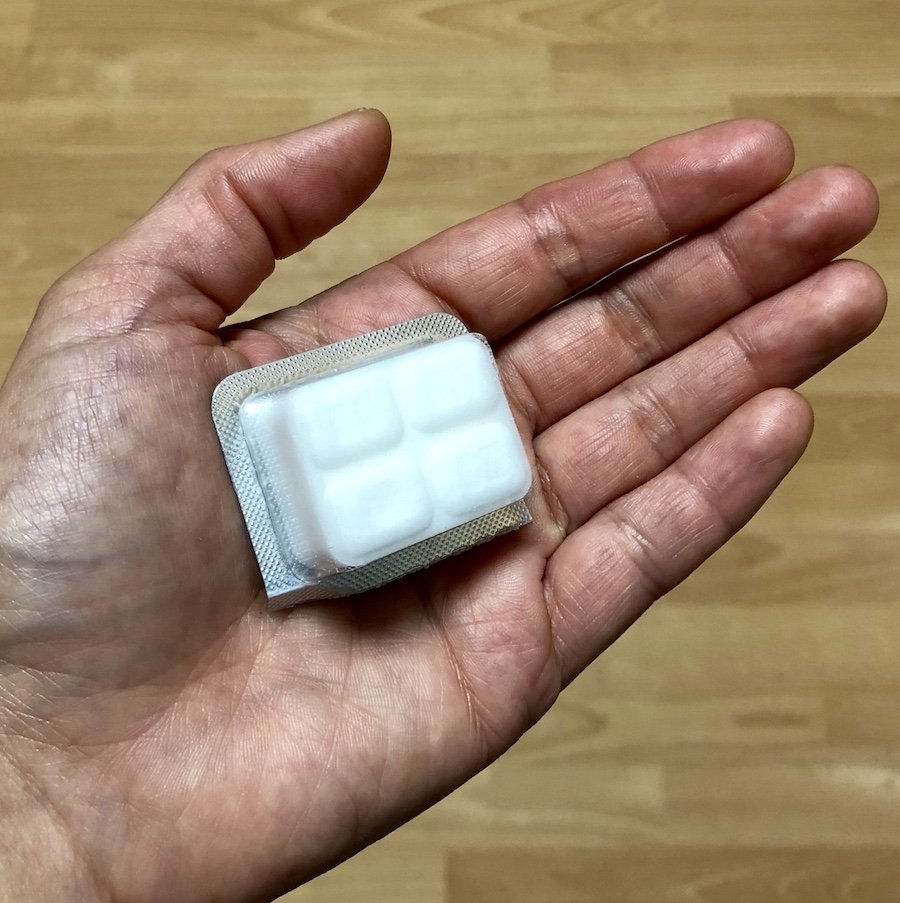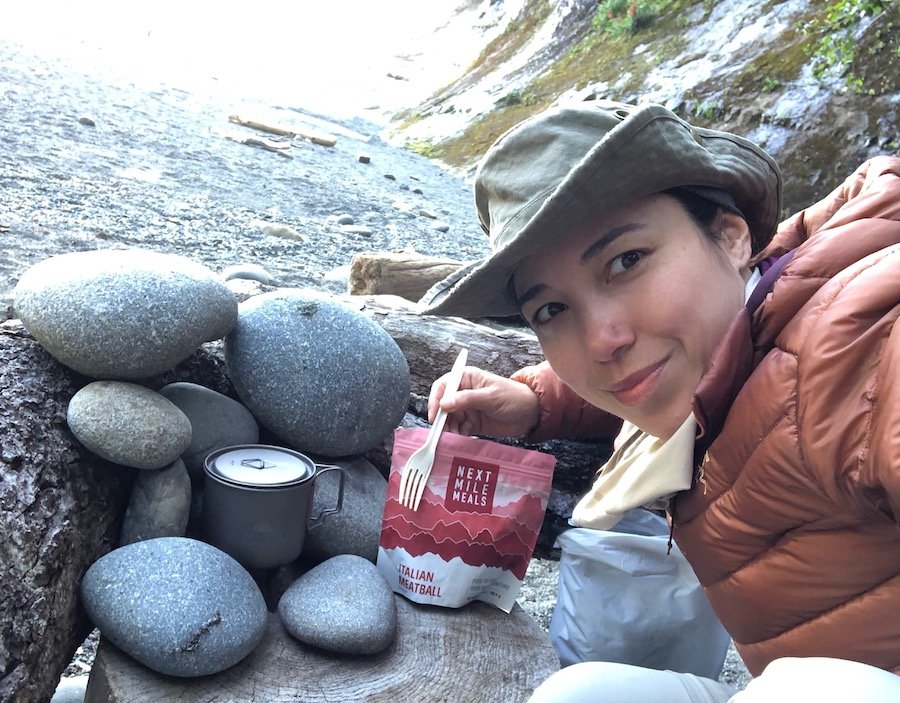 I carried two 500ml SmartWater bottles (or similar) at my hips using Aquaclips and had a third, lighter 500ml disposable plastic bottle in my pack. I knew there were plenty of places to fill up on the trail. I never ran out of water with that amount once, or even had to fill up before hitting my next campsite.
Intermittent Fasting on the Trail
In addition to my meal plans, I also decided that I would keep up with my intermittent fasting, though I would be a bit more flexible with my timing. Since I ate so heavily and late the night before hitting the trail, and because I needed to make so much progress on that first day with such a late start (3pm, immediately after the mandatory orientation). I decided to fast until I felt like I needed to eat. As such, I didn't break fast until 6pm. I just kept moving, munching on trail mix and dried sausage until I got to the campground at 9:45 at which point I planned to eat the rest of my food for the day.
On the second day, I had my coffee and ketone supplement and left early hiking to Nitnaht Narrows to catch the ferry as it started runs. I broke fast on the other side at the Crab Shack then kept hiking. That day, I did a 16-8 protocol, eating all my calories within an 8-hour period.
The third day was shorter on the hiking side of things, so I held off eating until the 22-hour mark, finding myself okay hiking on coffee, ketone and electrolyte supplements. And for the final day, also a shorter hiking day, I simply fasted until I got back to Victoria then had a huge meal at my friend's house. I had left myself half a cup of trail mix in case I needed a little something to tide myself over (I didn't get to his place until 8:15pm), but I didn't really need it. That being said, I did end up scarfing it down later on that evening.
My 3-Day Ultralight Consumables List
Below is what I took and their associated weights. I've also included information about what I ate each day, my activity levels, and my intermittent fasting protocols. Just so you know, I trimmed any excess plastic or wrapping from any of my food packages. In some cases, I re-package items into lighter, zip bags. For my own conscience, I carefully wash and re-use all zip bags that I use on the trail to reduce waste.
All Consumables:
Vitamin Bag:
Vitamin D 1000 I.U. tablets (x9)
Vitamin C 500mg tablets (x3)
Vitamin B-complex 100 (halved) (x3)
Glucosamine Sulfate (x3)
Fish oil capsules (x12)
Collagen tablets (x9)
Here is the breakdown of what I ate on the trail and my fasting/eating windows:
DAY 1:
I.F. Protocol: Fasting 11:00pm-6:00pm, Eating 6:00-10:30pm
Hiking: 25km over easy terrain (6 hours 45 minutes)
½ cup keto trail mix (503 cal)
Jack Links A.M. Breakfast Sausage (½ package) (330 cal)
Greens packet (25 cal)
Supplements (53 cal)
Instant fatty golden green tea (302 cal)
Keto Tortilla (124 cal)
Next Mile Meals Buffalo Ranch Chicken (540 cal)
2 tablespoons blue cheese crumbles (110 cal)
Keto trail cookie (105 calories)
TOTAL: 2092 cal
DAY 2:
I.F. Protocol: Fasting 10:30pm-10:30am, Eating 10:30am-6:30pm
Hiking: 25km over easy terrain (8 hours 30 minutes)
Salmon steak and baked potato with sour cream, bacon crumbles, margarine (555 cal)
Butter powder and garlic herb seasoning (90 cal)
Jack Links A.M. Breakfast Sausage (½ package) (330 cal)
Asiago pepper jack cheese crisps (300 cal)
¾ cup keto trail mix (755 cal)
Keto trail cookie (105 calories)
Instant fatty golden green tea (302 cal)
Next Mile Meals Sausage Scramble (530 cal)
Supplements (53 cal)
Greens packet (25 cal)
Total: 3,045 cal
DAY 3
I.F. Protocol: Fasting 6:30pm-4:30pm, Eating 4:30pm-7:30pm
Hiking: 14km over moderate to difficult terrain (8 hours 30 minutes)
Keto trail cookie (x1) (105 cal)
Pork cracklins (400 cal)
Parmesan cheese crisps (60cal)
Next Mile Meals Italian Meatball (570 cal)
1¼ cups keto trail mix (1258 cal)
Instant fatty golden green tea (302 cal)
Supplements (53 cal)
Greens packet (25 cal)
Total: 2,773 cal
DAY 4:
I.F. Protocol: Fasting 7:30pm-8:15pm, Eating 8:15pm-11:00pm
Hiking: 13km over moderate to difficult terrain (5 hours 45 minutes)
No food eaten until returning to Victoria.
Thought for Food: Reflecting on My Consumable Choices
A couple of things that I didn't mention previously made some differences in my weight and the flow of my day. I decided to drink my coffee cold. The logic is that it would be less hassle and I could get up and get moving more quickly in the mornings. I was using the Four Sigmatic Instant Cordyceps Mushroom Coffee for this trip, touted for its energy and health benefits. I didn't really notice any real difference over regular coffee in terms of my energy, but because the powder was so fine, it was easy to stir up with a spoon, even using cold water. This process worked well for me. It was nice not having to set up a stove just for coffee.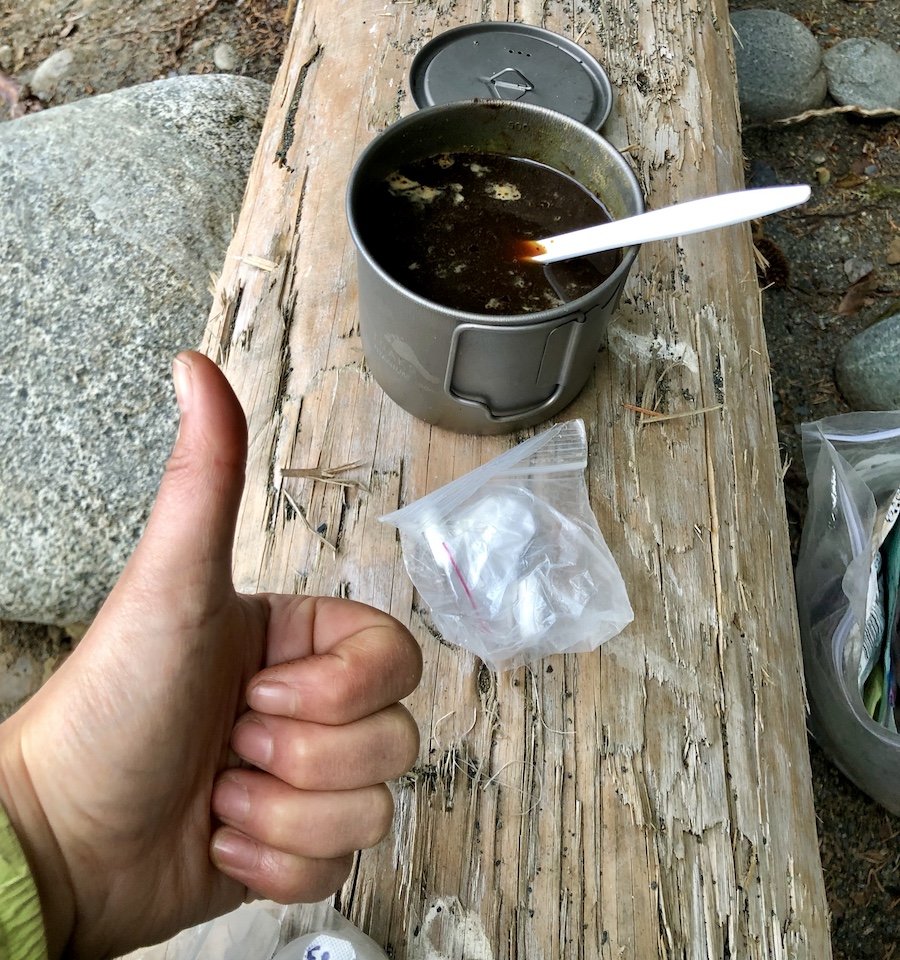 Because I only cooked my hot meals and tea in the evening all at once, it meant I could eat on the trail as I walked. I simply carried my trail mix and snacks in my shoulder pocket so I wouldn't have to stop and take off my bag to dig out my food when I wanted to eat. This kept me more efficient in terms of my hiking.
I was quite happy with all my snack choices. The Jacklinks sausages were the highest calorie, lowest carb dried meat that I had found, only second to pork rinds/cracklings. I liked having both for variety. The cheese crisps were all super light and tasty. My homemade keto trail mix was incredibly dense for calories and found it tasty and energizing as a trail food. I would also say the same of my instant fatty golden green tea. My keto hiker trail cookies were nourishing and made for a delicious treat at the end of the day.
In terms of supplementation, I took 1-2 ketone tablets throughout the day while I was hiking and fasting, which helped keep my energy level up. I also went through 3-4 electrolyte tablets as I hiked. I never found that I got dehydrated or low on electrolytes, and my energy level stayed consistent throughout my hikes. When breaking fast, I started with a serving of my sugar-free BCAA supplement. I had never tried them before, but had read that it helps a lot with muscle recovery and endurance, so I decided to package up one serving for each day of my trip. I would usually feel some muscle soreness the morning after a long day of hiking, but I didn't find that at all on my trip. Perhaps between my being well-trained for the hike, my ultralight pack, the BCAAs and my clean eating, my muscular needs were met for the trip. Whatever it was, it worked. Please note that the BCAA supplement used sucralose as the sweetener, which wouldn't have been my first choice, but it was all I could find last-minute. I would love to find one that uses a more keto-friendly sweetener like erithrytol, stevia, even xylitol, if such a product exists.
As for my meals, I normally make my own keto dehydrated meals for backpacking like my burrito bowl in a bag, my Denver egg scramble or my zucchini noodles Alfredo but this time I decided treat myself and try out Next Mile Meals' keto dehydrated backpacker meals. Jessie, the owner of the company, gave me one complimentary meal, and a discount on any further ones I wanted to try. Overall, I was quite happy with them. They were filling, lightweight, and delicious, but I will go into detail about them in a review in a separate blog post.
Moving Forward
This trip was one of those times when I had my eating strategy perfectly dialled in. I didn't carry a ton of extra food, but still had a little left at the end though I suppose I could have had slightly more in case of emergency, but I was less concerned about that based on how populated the trail was. My energy levels were great. I never felt overly hungry/unsatisfied. And I even enjoyed the food I had. I also managed to stick to a predominantly keto diet on the trail (other than that one potato at the Crab Shack). I hope this account of my keto eating and overall consumable strategy helps you plan your next backpacking adventure!
If you have any questions, comments or suggestions regarding trail food and consumables, please leave them in the comments so that we can all benefit from your thoughts. Happy trails! :)