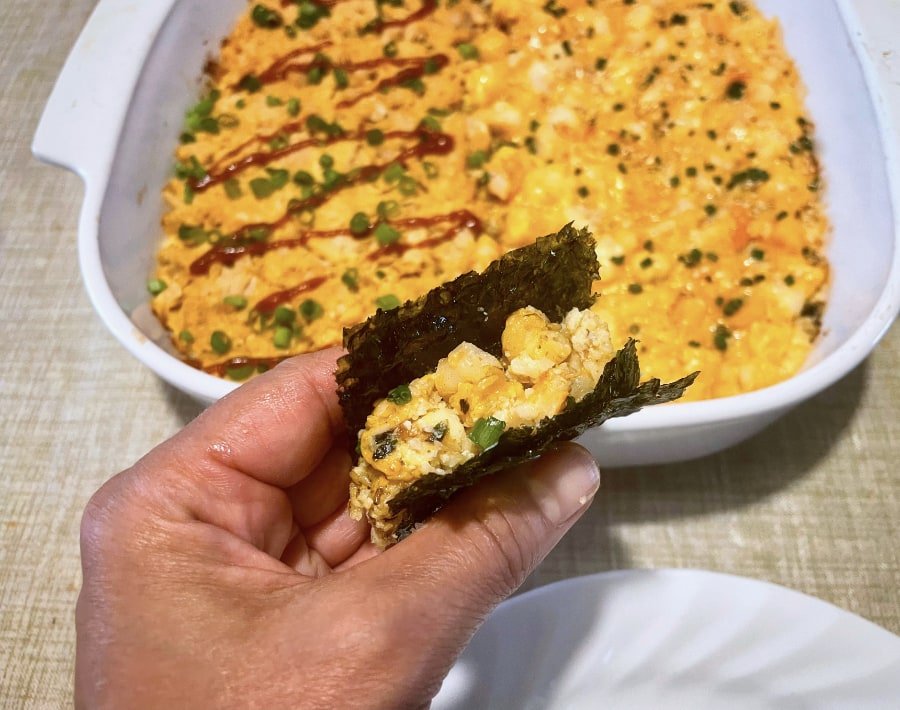 I was recently introduced to the concept of baked sushi, basically a baked version of in which you layer the rice, furikake, and sushi fillings in a casserole dish then bake it altogether. To serve, you spoon the layers into a piece of nori and enjoy. I figured this could be something that I could do with cauliflower rice instead.
The trick was finding a way to get the rice to have that sushi vinegar taste and still be able to stick together when baked. Cooking it up with cream cheese works great because it absorbs the rice vinegar while also making the cauliflower sticky enough to hold the other ingredients together. It works fine with regular cream cheese, but I actually prefer using my vegan tofu cream cheese instead to make it a little less rich and the flavour works well too.
Keto Baked Sushi Casserole with Spicy Tuna and Volcano Prawns on Cauliflower Rice Recipe
Cauliflower Sushi Rice Ingredients:
Volcano Prawn Topping Ingredients:
Spicy Tuna Topping Ingredients:
For Serving: - Roasted nori sheets
Directions:
Heat avocado oil in a large skillet over a medium-high heat. Add the cauliflower rice and salt (to taste) and stir fry it for about 30 seconds. Lower heat to medium, cover the pan and cook for 2 minutes. Lower heat to low and add tofu cream cheese and mix until fully coated. Remove from heat and stir in rice vinegar until well combined.

Transfer cauliflower rice mixture to a lightly sprayed 9x9" baking dish and spread evenly. Sprinkle furikake evenly overtop the rice. Set aside.

Preheat oven to 350F. For the volcano prawns, stir together the the mayo and Sriracha in a small mixing bowl. Addi the chopped prawns and stir until coated. Set aside.

For the spicy tuna, mix the mayo and Sriracha together. Add flaked tuna and stir until coated.

Spread volcano prawn topping over half the sushi rice and the spicy tuna topping over the other half. Bake uncovered in preheated oven for 20-25 minutes or until bubbly.

Remove from oven and sprinkle chopped chives and sesame seeds over the volcano prawns and a green onions and a drizzle of sriracha over the tuna. To serve, spoon either side of the baked sushi onto a piece of nori and enjoy!
Did you make this keto baked sushi casserole with spicy tuna and volcano prawns on cauliflower rice recipe? If so, please let me know how it turned out in the comments. Or if you share pics of your creations on Instagram, please tag me so I can see them. Enjoy!