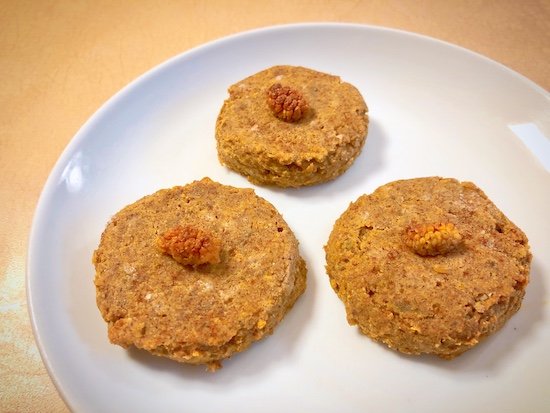 I've been trying to balance my hormones lately, as part of my approach to going off the pill, after reading about the damaging effects it can have. This balancing cinnamon flax breakfast cookie recipe has ingredients that help balance hormones, including flax meal, maca powder and pumpkin seeds. These are all helpful for dealing with a number of hormonal imbalances as a result of a number of conditions women face such as PCOS, perimenopause/menopause, etc. These ingredients all have benefits for men too. They are delicious and enjoyable any time of day, though they do make a for a great, quick breakfast that you can eat on the go.
Keto Balancing Cinnamon Flax Breakfast Cookies Recipe
Ingredients:
Directions:
Preheat the oven to 325F. In a large mixing bowl, whisk together all the dry ingredients. In a medium mixing bowl, combine all the wet ingredients. Mix together with an electric mixer until fully blended.

Add wet ingredients to the dry and stir together with a silicon spatula until just incorporated. Add mulberries and pumpkin seeds and stir until worked throughout.

Scoop batter onto a cookie sheet to form 20 cookies. Flatten and smooth them into discs with a small spatula (they won't spread on their own as they bake.) and sprinkle with flaky sea salt if desired.

Bake in preheated oven for 35-40 minutes, or until golden brown, the surface of the cookies appears dry, and the centers feel just firm to the touch. Allow to cool on a wire rack for 10 minutes then remove and place on rack to cool completely.
Did you make this keto balancing cinnamon flax breakfast cookie recipe? If so, please let me know how it turned out in the comments. Or if you share pics of your creations on Instagram, please tag me so I can see them. Enjoy!