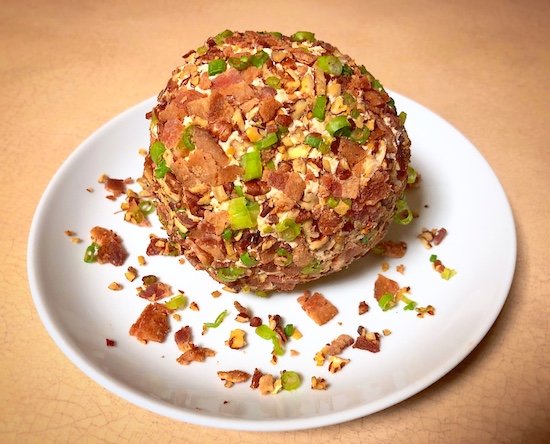 Roll up to a party with an impressive cheese ball like this one and you'll find a hub of people parked in front of it, yourself included! This low-carb, keto friendly one has a different twist on it, incorporating barbecue flavour, by adding a sugar-free BBQ sauce. Experiment with different flavours for a different one every time!
Keto BBQ Bacon Cheese Ball Recipe
Ingredients:
6 strips of bacon, crisply-cooked, drained and diced
2 tablespoons red onion, finely chopped
1 stalk green onion, finely chopped
8oz brick of cream cheese, softened
1 cup smoked goudao or aged cheddar, grated
2 tablespoons fresh parsley, finely chopped
⅛ teaspoon garlic powder
Flaky sea salt (like Maldon or Fleur de sel) and freshly ground freshly ground black pepper (to taste)
⅓ cup sugar-free BBQ sauce
¼ cup pecans, chopped and toasted
Directions:
Add half of the bacon, red onions, cream cheese, cheese and BBQ sauce to a large mixing bowl. Stir together until evenly combined. Taste the mixture and season with a pinch of salt and pepper if needed, stirring the mixture once more to work it in.

Transfer the mixture to the center of a large sheet of plastic wrap. Form into a ball and wrap tightly with the plastic wrap. Refrigerate or freeze for 1-2 hours, or until mostly firm.

Combine the bacon, green onions and pecans on a large plate. Unwrap the cheese ball and place it in the center of the plate. Then gently roll the ball around until it is coated with the bacon mixture. Serve with keto crackers, keto bread or cut veggies. Or wrap and refrigerate the cheese ball again until you are ready to serve it.
Did you try this keto BBQ bacon cheese ball recipe out? If so, let me know how it went in the comments, or tag me in any photos you share on Instagram so I can see your creation.