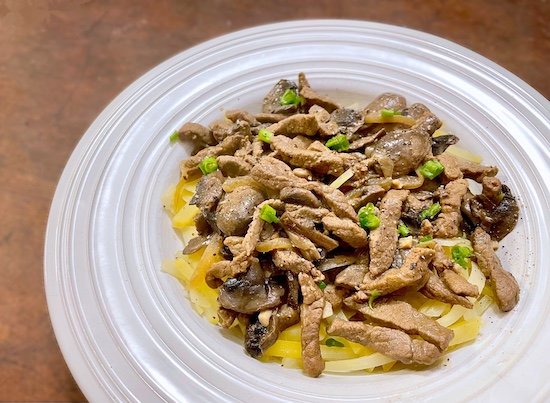 Beef stroganoff his a timeless, keto-friendly classic... just as long as you don't use egg noodles for serving (I went with rutabaga noodles). While it's usually made with top sirloin, I chose to got with outside round, a cheaper but tougher cut of meat, so that I can get the more expensive grass-fed beef. As such, I modified the usual cooking method, simmering the meat for much longer to soften the meat rather than browning it and just adding it in at the end after reducing the sauce.
Keto Beef Stroganoff Recipe
Ingredients:
Directions:
Around 12-24 hours before you plan to eat, sprinkle the unsliced beef with kosher sea salt then return to the fridge. When you're ready to prepare your meal, take the beef out of the fridge and slice into thin strips. Add the oat fibre, salt, paprika and pepper to a large resealable plastic bag. Add beef to the bag and shake until well coated. Set aside, allowing to come to room temperature for 20 minutes.

In a large skillet, melt butter. Brown beef in batches. Remove and keep warm.

Add avocado oil to skillet. Once heated, add onion and saute until translucent, around 2-3 minutes then add and garlic and saute until fragrant, around 1-2 minutes.

Add the broth, Worcestershire sauce, mustard, and mushrooms. Cover and simmer to reduce the sauce, around 25-30 minutes. Add the meat in and cook until tender, another 25-30 minutes. Just before serving, stir in sour cream. Heat through, but do not boil. Serve over noodles. Garnish with parsley and serve over rutabaga noodles or cauliflower rice.
Did you make this keto beef stroganoff recipe? If so, please let me know how it turned out in the comments. Or if you share pics of your creations on Instagram, please tag me so I can see them. Enjoy! :)